A phone call from anywhere would be nice,

even a call from that clerk at Sears

with an apology for charging that dryer

or even a call from the company I phoned

for estimates on the fence we need

to run to the alley, take two lefts,

and dash back to the house,

the fence we hope will keep the kids

from threshing the neighbor's

or even a call from my wife

about the fever Meg had this morning

and a third reminder to record

the check for the penicillin.

a phone call from anywhere would be nice.

Used with the author's permission.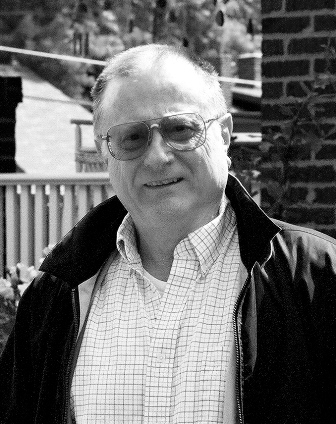 Donal Mahoney lives in St. Louis, Missouri. A native of Chicago, he spent the early Seventies actively submitting poems to print journals and enjoyed some success. He then took a 35-year hiatus from poetry to work as an editor of prose at such lofty establishments as the Chicago Sun-Times, Loyola University Press, and Washington University in St. Louis to support and educate five children. Upon retirement, Donal took to his recliner, and was perfectly happy sitting and listening to Gregorian chant all day. After three years, however, his wife interrupted with a Gregorian chant of her own. She bought Donal a computer and showed him where the boxes of still-unpublished poems had been stored in the basement for many years. Thus Donal began actively submitting again in June 2008. He has since had nearly three hundred poems published here and abroad, an achievement he credits largely to his wife.
Donal Mahoney:
I would like to thank all of you for the kind comments with regard to my poem. It's interesting that most of you may not have been born when this poem was first written--in the late Sixties when I had five small children. Sometimes one lucks out on a poem, good or bad, when it turns out to be timeless. I'd be pleased, however, if this poem would cease to be timeless for another 40 years or so. I'd truly hate to be jobless today with or without small children.
Posted 08/02/2012 11:07 AM
Jo:
Know exactly how this guy feels. Gary, you're "over-qualified" has a ring to it-unfortunately. Thanks Donal. Another good poem.
Posted 08/02/2012 09:53 AM
ed werstein:
Donal, Another fine piece of writing. But you forgot to include your phone number. Ha. FYI, Irish Fest in Milwaukee starts two weeks from today.
Posted 08/02/2012 08:46 AM
angierdh:
HA! Love it. I know EXACTLY how this guy feels. Would love for the flipping phone to ring!
Posted 08/02/2012 08:21 AM
Carol Hauer:
Everyday tasks, mundane thoughts, the art of living is worthy of a poem. It's a life we all share. Thank you for this.
Posted 08/02/2012 08:17 AM
Gary Busha:
You're "over qualified."
Posted 08/02/2012 07:55 AM
LisaV:
I know the feeling...Thanks, Donal.
Posted 08/02/2012 05:56 AM