Drawn as they are to conflict, the crows

are a constant entertainment. Clever and mean

of spirit, they devise much mischief

and often surprise the men and women whose

scraps they freely eat. Left to their own

devices, they unlatch windows and overturn the

dishes of household pets. They have been

known to foul an entire week's wash, each calling

to each the whole while. More often sleek

than not, they go where they will, not birds of

passage but passerines, who perch and cry

aloud what they wish to be known, what others

 

Used with the author's permission.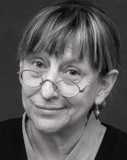 Phebe Davidson is the author of 23 published collections of poems. A retired English professor, she thinks of herself as a recovering academic. Still up to her neck in poems, she is the founding editor of Palanquin Press, a contributing editor for Tar River Poetry, and a staff writer for The Asheville Poetry Review. She also serves on the Board of Governors for the South Carolina Academy of Authors. Her poems and essays appear in print journals and on the web. She lives in Westminster, SC with her cat Fripp.
transitions:
It's been on the tip of my tongue and now must come out on the page (apologies in advance) but this poem is...something to crow about! Judy
Posted 08/09/2012 01:16 PM
r1manchester:
yes, crows....those Sisters of Satan,coming from some dark place, sounding like warring politicians. you have their number ms. phebe, not fooled by them. best,
Posted 08/09/2012 10:09 AM
Linda Muldoon:
Yes, indeed, more crow poems. Crows are jesters, and messengers, and tricksters showing not only an intelligence but a penchant for living on the edge and, yes, as the poem suggests, announcing their secrets. Thoroughly enjoyed the poem.
Posted 08/09/2012 09:44 AM
Larry Schug:
I can't get enough of crow poems, especially when they're this good. Any creature that "devises mischief" is a friend of mine.
Posted 08/09/2012 08:50 AM
KevinArnold:
Just when I was tiring a bit of all these birds, this wonderful poem comes along with crows as analogous to . . . to so many things, even writers. Passarines indeed!
Posted 08/09/2012 08:37 AM
penhart:
You've really captured crow-spirit, Phoebe. Lovely to see your poem here. And I look forward to our staying in touch, as we have been doing, via e-mail.
Posted 08/09/2012 07:28 AM