Two crows walked down a wet road,

their heads bobbing like black umbrellas

along a city sidewalk. I envied them their

companionable stroll, the flock that settled

on the grass beside them, when my day

was spent alone, missing you. You

are nowhere and everywhere, the pervading

absence of you more present than this chair,

this desk, the window through which my gaze

moves like a ghost. My thoughts fly

to you like birds through rain-drenched

clouds, or songs through a roof, piercing

the sky like stars—while crows lift up

together, their wings stretched to breaking.





From Telling Tales of Dusk (Press 53, 2009).

Used here with the author's permission.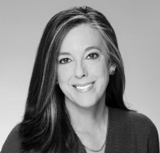 Terri Kirby Erickson is the award-winning author of three collections of poetry, including her latest, In the Palms of Angels (Press 53). She considers herself blessed and fortunate to have any success at all, doing work she loves. "Poetry has been such a healing force in my life," says Terri, who shares her love of writing and reading poetry by volunteering at the Derrick L. Davis Forsyth Regional Cancer Center in Winston-Salem and guest lecturing in creative writing classes at R. J. Reynolds High School. Terri has also taught poetry at Salem College and has conducted a number of poetry workshops for teenagers. Asked her career goals as a published author, she declares, "I want to make poetry more popular in this country than NASCAR!" A North Carolina native, Terri lives in a small town outside of Winston-Salem, with her husband of twenty years. Learn more about her at http://terrikirbyerickson.wordpress.com.
transitions:
and... it's more than just the 'wings breaking here'... beautifully done. Judy
Posted 08/12/2012 12:15 PM
transitions:
I love 'heads bobbing like black umbrellas' - I can see them...and I share the feeling in this lovely poem. Judy
Posted 08/12/2012 12:12 PM
rtaylor947@aol.com:
Love this poem, Terri! The crow images are great and I am struck by your sawing-against-the-grain phrase, "the pervading absence of you more present than this chair..."
Posted 08/10/2012 02:35 PM
marenomitchell:
What an unusual and beautiful love poem!
Posted 08/10/2012 12:54 PM
Terri Kirby Erickson:
Thanks for all the kind comments!
Posted 08/10/2012 10:24 AM
Donna Pflueger:
Terri, your poem is wonderful. It builds with such intensity - from walking to flying - and the love in the midst of it, so powerful. Thank you.
Posted 08/10/2012 09:58 AM
mimi:
love crow poems! and this is a good one, thanks...
Posted 08/10/2012 08:30 AM
69Dorcas:
i have a slide I took called "Two Alone" way back in time when I was in a Photography Club of the PSA. Your poem reminded me of the two pigeons at the end of a converging pattern of markble stone work on the ground. It won "First Runner Up" for the "Slide of the Year." Thank you for sharing. It is a lovely poem, and I wish you luck in outdoing NASCAR. I am a poet also Perhaps I will consider penning one about my two pigeons alone.
Posted 08/10/2012 07:36 AM