Of a day I had rued.



 

From New Hampshire: A Poem with Notes and Grace Notes (New York: Henry Holt and Co., 1923).

This poem is believed to be in the public domain; confirmation of this is in process.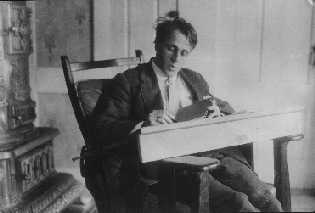 Robert Frost (1874-1963) was born in San Francisco, but moved to Massachusetts with his family after his father's death in 1885 and, ultimately, lived in a number of homes and farms throughout New England. Though he attended several prestigious colleges and universities, he never graduated from any of them. Nonetheless, Robert spent most of his adult life teaching, receiving more than forty honorary degrees, along with four Pulitzer Prizes. Robert's interest in poetry started early; he published his first poem while in high school, sold his first poem at twenty, and by the age of forty, was one of America's best known and best loved poets. Rural life is a consistent theme in Robert's poetry, as is simplistic language that is pleasing to the ear; he felt strongly that poetry was best appreciated when read aloud.
rtaylor947@aol.com:
Frost was such a skillful rhymer you hardly notice the rhymes at first. They fit so well in the poem, reinforcing, not detracting from the sense of the poem. I think of the crow as an unlikely agent for baptism, and the hemlock (poison!) as an unlikely source of the heart-cleansing Frost describes. Wow. Great poem.
Posted 08/11/2012 11:07 AM
KevinArnold:
Oh, my goodness, the precision. One sentence. No tricks, just solid craft.
Posted 08/11/2012 08:48 AM
dotief@comcast.net:
Since I have lived in Florida most of my life, I find the images of this poem refre4shingly new and powerful. Leave it to Frost to be able to take something so foreign to a Floridian and make it part of her personal iconography.
Posted 08/11/2012 08:28 AM
SilverOne:
This is a beloved poem because we've all experienced these feelings. Great to see it again.
Posted 08/11/2012 08:22 AM