summer wears its old clothes.
The trees are flush with leaves,
thrift store rough around the edges,
beginning to show their age.
who poke through the drooping cone flowers,
and in the cool early mornings
off spider webs covering the grass. 
In its last days August waits,
for the opening of school,
for Its trees' fancy new clothes.
Shimmering in their showy
red, yellow and orange hues. 

©
by Robert Manchester.
Used with the author's permission.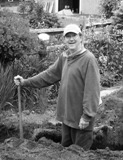 Robert Manchester lives in New Hampshire, surrounded by leafy trees, stone walls, memories of Robert Frost, and several living poetry legends. He's been writing and publishing poems for 50+ years, but quite prefers writing to submitting. Even so, his work manages to appear in print and win prizes on a fairly consistent basis, and Robert has even joined the Newbury Poetry Group. Though he views himself as a cynic who writes edgy poems about the "underbelly of life—the junk cars, tumbledown trailers, goat pens in the front yard, and the like—", his work is actually quite entertaining and often humorous.
transitions:
That's just how it feels today, the intangible 'summer wears its old clothes' feeling ~ and thank you for the 'fairy trampoline' - marvelous imagery! Your poem is a late summer treat. Judy
Posted 08/29/2012 10:08 AM
stocktonryan:
"summer wears its old clothes" great image.
Posted 08/29/2012 09:03 AM
mimi:
lovely images...
Posted 08/29/2012 07:57 AM
phebe.davidson@gmail.com:
This is a truly masterful opening stanza. What a superb opening for the poem!
Posted 08/29/2012 07:05 AM