It is the hour when from the boughs
The nightingale's high note is heard;
It is the hour — when lover's vows
Seem sweet in every whisper'd word;
And gentle winds and waters near,
Make music to the lonely ear.
Each flower the dews have lightly wet,
And in the sky the stars are met,
And on the wave is deeper blue,
And on the leaf a browner hue,
And in the Heaven that clear obscure
So softly dark, and darkly pure,
That follows the decline of day
As twilight melts beneath the moon away.
This poem is in the public domain.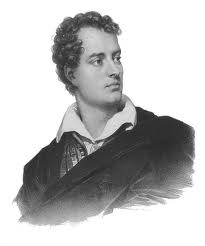 George Gordon Byron (1788 - 1824) was born in England but traveled extensively and spent almost as much time in Greece and Italy as he did in his home country. The bad boy of British poetry (one esteemed lady called him ?...mad, bad, and dangerous to know!"), Lord Byron's colorful life fit right in with the family from whence he came, but rather than detract from his poetic talent, his escapades merely enhanced his persona. His first collection of poems received poor reviews but subsequent work was highly praised and Byron (he was never called George) enjoyed enormous success throughout Europe and abroad, on par with today?s rock stars. In addition to being a poet, Byron was a member of Parliament devoted to social reform, and he served as a soldier. Despite a club foot and violent mood swings which suggest he may have been manic-depressive, Byron was much loved for his loyalty and much admired for his handsome physique. An athlete and vegetarian, he was an animal lover and had a pet bear while in college. He also had, at one time or another, a monkey, an alligator, a fox, a badger, and a falcon.
yuriy.litvinov53:
Hello, Excuse me, but you've made two mistakes in the sentence "Lord Byron's colorful life fit right in with the family from whence he came." Firstly, it should be either "fits" (if in the Present Simple), or "fitted" (if in the Past Simple). Secondly, the preposition "from" is redundant because the meaning "from" is already available within the semantic structure of the word "whence." Best regards Yuri Litvinov PhD English metaphor and simile
Posted 05/24/2018 06:35 AM
69Dorcas:
Utterly lovely. Does one have to have such extraordinary inklings in order to see the universe and gather such words. I wonder. How ungifted am I.
Posted 08/30/2012 12:18 PM
jeanie:
i love the lonely ear
Posted 08/30/2012 10:53 AM
dotief@comcast.net:
This must be a very "poetic" time of day--this "hour" when day melts into night. We have had a number of magnificent poems that have addressed this magical time. These poems poem touch upon universal feelings, no doubt. Nice piece!
Posted 08/30/2012 10:42 AM