I begin to feel the rising panic

that probably gets worse later

as I watch the days flowing much too fast

once immeasurable inexhaustible cheap common

now spilling like diamonds down the deep well of time

and I am leaning over the side

grasping at the avalanche just out of reach

and I cry wait!

only the counting of lost dreams.

I should have paid more attention

I thought I knew what that was

in the fullness of wisdom

I see that I know nothing

A version of this poem first appeared in High Horse Poetry Magazine (2004).

Used here with the author's permission.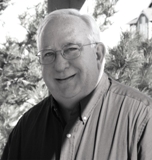 Richard Allen Taylor lives and works in Charlotte, North Carolina, as a Regional Human Resources Manager for a retail automotive dealership group. A graduate of the University of North Carolina at Chapel Hill, Taylor, having no idea he might someday want to be a poet, passed up an opportunity to double major in psychology and English because he did not care to enroll in the two semesters of poetry required for the English degree. After dabbling in poetry in his late 20s and early 30s, he abandoned poetry completely until, encouraged by friends, he picked up the pen again in his 50s. His first poems were published in 2002. Since then, his poetry has appeared in many literary journals and anthologies and he has two books to his credit.
marenomitchell:
I suspect that you know more than most, even though we all know little to nothing.
Posted 01/02/2013 07:07 PM
transitions:
- at 60 something I realized I knew even less; at 70 something I'm sure of it! Thanks for the lovely poem ~ Judy
Posted 01/02/2013 02:46 PM
karenpaulholmes:
love this poem, Richard. At 50-something, I now realize that it's much better to admit I know nothing.
Posted 01/02/2013 12:46 PM
diane:
"White grains once immeasurable inexhaustible cheap common," and now they are diamonds. Amazing how our perception changes! I love every line of this poem. Thank you, Richard.
Posted 01/02/2013 12:11 PM
pwax:
Yes, spilling like diamonds down the deep well of time! Wait! Beautifully stated.
Posted 01/02/2013 11:12 AM
SAR2126:
His bio is as wonderful as his poem -- thanks.
Posted 01/02/2013 10:18 AM
CamilleBalla:
Beautiful! Life is more precious when we see it 'spilling as diamonds....' I love 'one answer forward two questions back.' I will remember that. Dittoing everything already said.
Posted 01/02/2013 09:00 AM
dotief@comcast.net:
Very nice!
Posted 01/02/2013 08:34 AM
Anjie:
spilling like diamonds down the deep well of time--- THAT IS BEAUTIFUL! Thank you, Richard.
Posted 01/02/2013 07:49 AM
MaryLeeHahn:
So true. So very true.
Posted 01/02/2013 06:33 AM
vscholtz:
". . .one answer forward two questions back." Thanks for this beautiful expression of the irretrievable value of all the moments in our days.
Posted 01/02/2013 06:28 AM
TheSilverOne:
How wonderfully stated...what is so often felt by so many of us.
Posted 01/02/2013 06:24 AM
nancy scott:
Great poem. Oh, I agree. Time doesn't slow down; take 2012, that whole year disappeared, how? where?
Posted 01/02/2013 06:08 AM