We'd scramble up the fence

peeled with winter winds,

balance beam across the cement wall

onto the roof of the neighbour's house,

were still on the night table.

Flit across shingles to neverland

to spar with our shadows. In that blue sky

kingdom we'd pass secret laws and decrees

to former authority figures

always loyal to our rule.

School and parsnips are banished from our empire.

The wrapping of winter scarves will now

We will in no way ever again kiss

Aunt Greta with the moustache.

would blow us over the eaves

of mother calling us in to supper.

Used with the author's permission.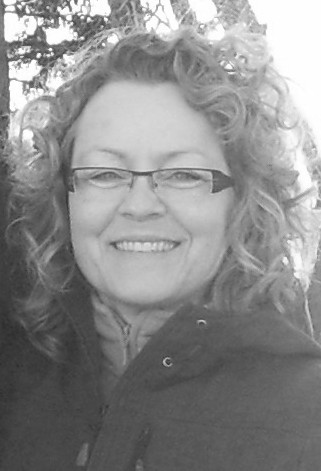 Bronwen McRae grew up in Moose Jaw, Saskatchewan, and now lives on an acreage near Saskatoon. She likes writing poetry, hanging out with her family, and eating chocolate. She dislikes snakes, leaky tents, and writing bios, but says that eating chocolate while writing the bio helps. Bronwen is a member of Obsessors Poetry Group. Her poetry has appeared in Room, Spring, and online at blue skies poetry and Leaf Press.
Eiken:
Wonderful :)
Posted 01/17/2013 06:47 AM
nancilee:
This poem sets me longing for the kind of childhood depicted. I want it to be mine.
Posted 01/11/2013 02:37 PM
lisa honecker:
This is amazing, send more from this poet. It is enticing!
Posted 01/11/2013 11:49 AM
KevinArnold:
I like how the poem kind of breaks down, intentionally loses its metricallity, as the mother intrudes.
Posted 01/10/2013 01:42 PM
LindaCrosfield:
Lovely! "hoped their hearing aids were still on the night table"...took me back. Also Aunt Greta, who in my case was Nan Moore. Ah yes.
Posted 01/10/2013 12:10 PM
davemargoshes:
nice one, Bronwen!
Posted 01/10/2013 11:25 AM
erinsnana:
I love this poem! You took me on that whole adventure with you as I read! Not having to kiss the aunt with a mustache? Hilarious! (And I, too, think chocolate makes everything better.)
Posted 01/10/2013 07:12 AM