January we start to train

graham crackers at reststops

a notion of common purpose,

our tired feet counterbalanced

 

January, the cold will slice us

but we will turn our faces

just so to the sun, the wind

will not deter us, we will be warmed

by each other and our floating

talk—recipes and reminiscences,

where winter might go, a house

that catches our eye, a bathroom—

 

Used with the author's permission.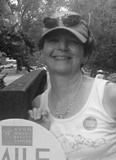 Janice Lynch Schuster lives near Annapolis, Maryland, where she is Senior Writer for Altarum Institute, a nonprofit health care research and consulting organization. Author of one poetry chapbook and two non-fiction books (her Handbook for Mortals won the 2012 American Medical Writers Association award for best book for the public), Janice's poetry has appeared in various print and online publications and her articles and op-ed pieces appear frequently in the Washington Post. Mother of six, Janice says she finds "working out, mastering the body, inspires me to create poetry--mastering the language and the mind. I haven't mastered either yet," she admits, "but I keep trying."
wendy morton:
Such a lovely celebration of the ordinary.
Posted 01/11/2013 11:07 AM
laurasalas:
Terrific! Great meaning/emotion grounded in concrete details. Love that!
Posted 01/11/2013 06:40 AM
Eiken:
Living in the moment, mindful writing, wonderful :) Maire
Posted 01/11/2013 04:16 AM