If you'll be Ginger Rogers
I will strive for Fred Astaire,
we'll dance across a polished floor
in resplendent evening wear.
Your dress will be the cream
we'll swirl in dizzy circles
in a dervish state of flux—
in the singing of our lines.
in that moment we all seek,
when life is just as perfect
as two people cheek to cheek.


© by Mike Orlock.


Used with the author's permission.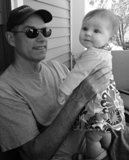 Mike Orlock is a retired high school English and American History teacher who splits time between the Chicago suburbs and a vacation home in Sturgeon Bay, Wisconsin. He has been married 37 years to his high school sweetheart and inspiration, Liz. His short stories, poems, and reviews have appeared in a variety of publications such as Reporter-Progress newspapers, The Peninsula Pulse, VerseWisconsin, TriQuarterly, and the Wisconsin Fellowship of Poets annual calendar.
raindame9:
Great fun and it brings 'em all back. Helen P.
Posted 01/27/2013 10:49 PM
erinsnana:
Love this!
Posted 01/26/2013 02:24 PM
nancy scott:
Some enchanted evening.
Posted 01/26/2013 01:52 PM