I keep collecting books I know
I'll never, never read;
My wife and daughter tell me so,
And yet I never heed.
"Please make me," says some wistful tome,
"A wee bit of yourself."
And so I take my treasure home,
And tuck it in a shelf.

And now my very shelves complain;
They jam and over-spill.
They say: "Why don't you ease our strain?"
"Some day," I say, "I will."
So book by book they plead and sigh;
I pick and dip and scan;
Then put them back, distressed that I
Am such a busy man.

Now, there's my Boswell and my Sterne,
my Gibbon and Defoe;
To savor Swift I'll never learn,
Montaigne I may not know.
On Bacon I will never sup,
For Shakespeare I've no time;
Because I'm busy making up
These jingly bits of rhyme.

Chekov is caviar to me,
While Stendhal makes me snore;
Poor Proust is not my cup of tea,
And Balzac is a bore.
I have their books, I love their names,
And yet alas! they head,
With Lawrence, Joyce and Henry James,
My Roster of Unread.

I think it would be very well
If I commit a crime,
And get put in a prison cell
And not allowed to rhyme;
Yet given all these worthy books
According to my need,
I now caress with loving looks,
But never, never read.
This poem is in the public domain.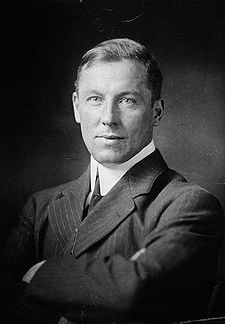 Robert Service (1874 - 1958) was a Scottish poet who became smitten with the Yukon Territory when he moved to Canada at the age of 21. Though he longed to be a trail-blazing cowboy, and many thought he indeed lived the life of which he wrote, Robert was, in fact, a bank clerk. After wandering North America for several years, working at odd jobs and various bank branches, he finally settled down in Dawson City, Yukon, some time after the Gold Rush. Robert began writing poems about his stark and beautiful surroundings, and about the legends and lifestyle associated with that part of the world. When his collection of poetry, The Spell of the Yukon and Other Verses, was published in 1907, it was an immediate success, made Robert wealthy beyond his greatest expectations, and earned him the nickname "The Bard of the Yukon." Robert alternated living in North America and Europe for the remainder of his life--even spending a few years in Hollywood; the cabin in the Klondike where he made his home is now a Canadian national park site.
Dorcas:
I am just the same as he, my apartment would never blow away for weight of books.
Posted 04/20/2013 08:03 AM
CamilleBalla:
This is an eye-opener. I'm not alone with bookshelves of books to read 'someday'. What I've read here actually makes my day.
Posted 04/19/2013 04:25 PM
Joe Sottile:
Good one!
Posted 04/19/2013 12:49 PM
dotief@comcast.net:
Nancy, Perhaps many writer/readers are like me. I am very slow and methodical in my reading, and that means that I do not breeze through countless volumes as some so. But I read and reread books that are meaningful to me. I go deep and contemplate phrases and images, and I let myself be taken into the mind and world of the writer. This may mean that I will not get to every book on my shelf, but I will certainly keep trying and buying and reading all the books I can. Quality over quantity. I say.
Posted 04/19/2013 08:55 AM
mimi:
my books are jumping up and down, saying YES! I'm a poet and I know there's not much profit in writing poems, but o the rewards are still great--when someone tells you, with tears in their eyes, how much your poem meant to them...
Posted 04/19/2013 08:52 AM
Nancy Simpson:
It is still the same today. Many writers do not read. They have book shelves full but admit they do not read. Even Exec. Directors of Writing Programs write and publish essays about how they do not read our books. We buy their books, read their books, shelve them among our favorites. None of it makes sense to me. Sorry, I cannot laugh at today's poem. This poem reminds me that it is still the same here in America. Americans do not read much anymore. Most of all, they do not read poetry. Our bookstore closed this year but the bookstore in our next town flat over and over again refused to sell my most recent collection because,as the owner said, she "cannot sell poetry books." If poets themselves will not read poetry, we cannot expect anyone else to want to read poetry. Gosh Jayne, I apologize. Today's poem has shut me down instead of making me laugh in celebration of poetry.
Posted 04/19/2013 08:25 AM
TheSilverOne:
Clever poem..always liked Service. Reminds me of my magic bookcases...I get rid of a couple books, a couple magically appear in their place.
Posted 04/19/2013 07:45 AM
JanetruthMartin:
I laughed out loud as I read these words.'..how many of us have done the same? The cover called my name' 'I skim through and see a line that steals my breath' it comes home, life returns to its busyness and the book joins my 'someday' heap! Thank-you Jayne, for this 'library week'. Such fun!
Posted 04/19/2013 06:20 AM