Barefooted boys scud up the street
Or scurry under sheltering sheds;
And schoolgirl faces, pale and sweet,
Gleam from the shawls about their heads.

Doors bang; and mother-voices call
From alien homes; and rusty gates
Are slammed; and high above it all,
The thunder grim reverberates.

And then, abrupt, –the rain! the rain! –
The earth lies gasping; and the eyes
Behind the streaming window-pane
Smile at the trouble of the skies.

The highway smokes; sharp echoes ring;
The cattle bawl and cowbells clank;
And into town comes galloping
The farmer's horse, with streaming flank.

The swallow dips beneath the eaves,
And flirts his plumes and folds his wings;
And under the catawba leaves
The caterpillar curls and clings.

The bumble-bee is pelted down
The wet stem of the hollyhock;
And sullenly, in spattered brown,
The cricket leaps the garden walk.

Within, the baby claps his hands
And crows with rapture strange and vague;
Without, beneath the rosebush stands
A dripping rooster on one leg.
This poem is in the public domain.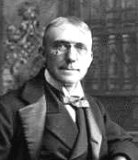 James Whitcomb Riley (1849 - 1916) was an American poet best known for his children's poems and dialect-based verses. James was born in Greenfield, Indiana, and later moved to Indianapolis; homes in both cities are preserved and open to the public today. James was hugely popular during his lifetime. A bestselling author who traveled the country speaking to sell-out crowds, he never married or had children of his own, but he loved children and they loved him back. When he died, more than 35,000 people came to pay their respects as James lay in state under the Indiana capitol dome.
Larry Schug:
2.5 inches of rain last night, strong winds, a dozen trees or more blown over or broken off on our property. Pelted, indeed! And I like rhyme a lot!
Posted 06/21/2013 03:11 PM
Dorcas:
Rhyme or not the reflection during a shower is lovely, heart felt, passes the time while under cover or looking back.
Posted 06/21/2013 01:43 PM
stocktonryan:
@paradea- I know what you mean. I personally do not know why rhyming seems to be so frowned upon these days. To me it adds a layer of complexity and adds harmony to a piece. I realize that is just my personal preference, but this preference does draw me to much of the older poetry, like this one.
Posted 06/21/2013 08:45 AM
paradea:
I love rhyming. I love the older poetry. I love the wet cricket image and the last verse. This is great!
Posted 06/21/2013 07:47 AM