The splendor of flower boxes and overflowing pots spill
in every yard. August in the garden shop, these three
geraniums grow lank and needy in the sun.
My own pots bloomed early this year, choice coral geraniums
a lavender ivy geranium in the shade. Lots of lobelia –
Crystal Palace and all the miracles of indigo.
How to love the most unlovely of things? How they came
home with me, jammed into small spaces in the beds
and now harken first sun in the morning when I look out.
Close call, I would say. And what a loss if I had not stopped,
heard this small cry for belonging. These days, so much
suffering. What else could I have done?
© by Judith Heron.
Used with the author's permission.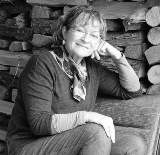 Judith Heron lives in Victoria on Vancouver Island. She has been published in a number of chapbooks edited by Patrick Lane, and in three anthologies: A Murder of Crones (Ptarmigan Press 2007), The Wild Weathers: a gathering of love poems (Leaf Press 2012), and Poems from Planet Earth (Leaf Press 2013). Though she has always lived on the west coast of Canada, Judith cherishes the homestead traditions of her prairie heritage. She is currently in the final edit of THE JAM MAKER, her first book-length manuscript.
transitions:
What else could I have done...is there ever an answer? Lovely poem.
Posted 08/21/2015 03:33 PM
barbsteff:
Lovely language and lovely idea.
Posted 08/20/2015 02:21 PM
Lori Levy:
Beautiful poem.
Posted 08/20/2015 11:37 AM
wendy morton:
A blooming garden of a poem.
Posted 08/20/2015 10:12 AM
dmahoney:
"How to love the most unlovely of things"- so true. Your poem speaks to the heart through something as simple as geraniums. Thank you, Judith!
Posted 08/20/2015 09:24 AM
KevinArnold:
Great extended metaphor. "And what a loss if I had not stopped . . ." Empowering.
Posted 08/20/2015 08:51 AM
Cindy:
such a kind and gentle poem
Posted 08/20/2015 08:41 AM
njc:
"...this small cry for belonging...what else could I have done?" Oh, if only we would all desire to ease even the most minute of suffering.
Posted 08/20/2015 08:28 AM
paradea:
Nice poem. I have fantastic luck with rescued plants from the 'dead and dying' stands at Lowe's...and I speak to them gently, the way my mother used to with her plants.
Posted 08/20/2015 07:00 AM
msruff:
Lovely. I can feel the need.
Posted 08/20/2015 05:26 AM