Slowly the west reaches for clothes of new colors
which it passes to a row of ancient trees.
You look, and soon these two worlds both leave you
one part climbs toward heaven, one sinks to earth.

leaving you, not really belonging to either,
not so hopelessly dark as that house that is silent,
not so unswervingly given to the eternal as that thing
that turns to a star each night and climbs--

leaving you (it is impossible to untangle the threads)
your own life, timid and standing high and growing,
so that, sometimes blocked in, sometimes reaching out,
one moment your life is a stone in you, and the next, a star.
This poem is in the public domain.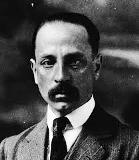 Rainer Maria Rilke (1875 - 1926) is considered one of Germany's greatest poets, though he was actually born in Czechoslovakia. He did not have a happy childhood and forced military service later in life had a devastating effect on his work. He traveled extensively and suffered from poor health for many years, but still managed to produce a prodigious volume of poetry, prose, letters, and essays. Considered a transitional figure in moving public taste from traditional to modern poetry, Rilke's influence on contemporary life is enormous. His poems are quoted in every musical genre from country to jazz and are referenced in numerous movies and TV episodes.
robert:
great!
Posted 03/25/2015 10:43 AM
ghctenmile@earthlink.net:
Thanks for "giving" us this poem, Jayne. If it's this good in translation how wonderful must it be in German!
Posted 06/11/2014 08:55 PM
Ginny C.:
The last line is a stunner.
Posted 06/11/2014 03:21 PM
Cindy:
So good!
Posted 06/11/2014 09:09 AM
paradea:
This is beautiful.
Posted 06/11/2014 08:50 AM
Janet Leahy:
I want to read this poem again and again, the closing line, so perfect. Thanks Jayne.
Posted 06/11/2014 08:43 AM
gretchenfriel:
A majestic dichotomy with such a spiritual tone. Thanks for sharing this uplifting piece.
Posted 06/11/2014 07:11 AM
KevinArnold:
Completely blown away, I am. Being from California (although now on the East Coast), I'm so used to sunsets being a beach-and-ocean thing, but here, with the landlocked trees, is especially powerful I particularly liked the couplet: leaving you (it is impossible to untangle the threads) your own life, timid and standing high and growing,
Posted 06/11/2014 06:09 AM