The grass frozen stiff, the town changed
To a black and white pen drawing, nibs of different
Thickness etching each blade,
Yaupon berries blurred in the cauls of ice
And the glazed branches crackling overhead.

Mist circles the dogs' heads, they look
Like cartoon dogs exchanging friendly insults.
But they don't like the slippery grass
Or the frozen patches they slide on in the street.
The dogs are black and white and fit the scene.

I like stepping into the past like that,
Thinking it could be my grandfather's oaks
We pass under, trees he stands beneath
In the only photo I have of him, circa 1940.
He too always had some dogs with him.

The white truck spraying gravel could be his,
If I just don't put my glasses on. I wave
At the invisible driver, turn back home.
Wind cuts through my coat, rattles the trees.
The branches sound like wind chimes, only darker.
© by Janet McCann.
Used with the author's permission.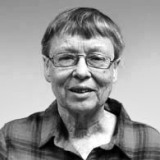 Janet McCann has been teaching creative writing and other vices to Aggies at Texas A&M for more than forty years. Her award-winning work is widely published in several genres. Janet's most recent collection is The Crone at the Casino, published by Lamar University Press. She is concerned for feral cats and other beings who are overlooked or abused.
rhonasheridan:
I really liked this poem. A poem to read again and again - with pleasure
Posted 01/17/2016 02:12 AM
Dorcas:
Beautiful nostalia.
Posted 01/16/2016 05:43 PM
jeeger:
Yes, that last line... very nice!
Posted 01/16/2016 03:30 PM
ElizabethP:
This is fabulous. What a photo you draw with your words.
Posted 01/16/2016 11:20 AM
mjs.ontheroad@gmail.com:
Brrr! I love the way words can change the temperature in the room! --and happy to be reading this evocative poem in sunny Mesa, AZ :-)
Posted 01/16/2016 10:20 AM
Ginny C.:
lovely precise descriptions
Posted 01/16/2016 09:41 AM
Shoshauna Shy:
Mention of the grandfather, and his place in the poem elevate this above the typical how-cold-it-is winter poem. This sent me to an intersection in Okee, Wisconsin where the general store is shuttered....perfect way to begin my soon-to-be subzero weekend, thank you, Janet!
Posted 01/16/2016 08:44 AM
Sherry:
I like winter poems the best, and this one is filled with great images that have a personal touch.
Posted 01/16/2016 08:23 AM
Katrina:
I love the monochrome moving from three to two dimensions.
Posted 01/16/2016 04:54 AM
Mar:
Lovely and imaginative, and I like the movement/shifts. And what a perfect ending.
Posted 01/16/2016 04:42 AM