The family goes on its regular date,
this time to a thrift shop
out of the neighborhood.
Dad gives each child a dollar bill,
says spend wisely. Mom heads toward
the shelves of household items,
fingers the waffle iron, sees the frayed cord,
moves on. She laughs over lava lamp memories,
chooses an intact game of Monopoly.
Dad and son gravitate to guy things.
The dollar bill goes at once to a samurai sword
with enough left over for the lone boxing glove —
he might luck onto its mate. Dad hefts
the bowling ball, decides it might do. Little sister
falls in love with a rubber ducky in hockey clothes.
At the register she solemnly hands
her change back to Daddy. Each happy
with the results of the spree they top off
the celebration with ice cream cones.


© by Patricia Wellingham-Jones..
Used with the author's permission.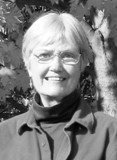 Patricia Wellingham-Jones lives on a creek in rural northern California where she enjoys writing about the things that happen around her – past and present. A retired RN, psychology researcher, and editor/writer/publisher, she is the author of a number of books and has a special interest in healing writing. Chapbooks include Don't Turn Away, poems about breast cancer; End-Cycle, poems about caregiving; Apple Blossoms at Eye Level, Voices on the Land, and Hormone Stew.

transitions:
Heartwarming; a happy family has little to do with how much money they have but how much love ~
Posted 03/05/2016 04:15 PM
Lori Levy:
Like the warm feeling this poem creates.
Posted 03/05/2016 02:13 PM
erinsnana:
very sweet!
Posted 03/05/2016 11:55 AM
Jo:
I enjoyed reading of this family adventure and how with little money, the family together is more than the sum of its parts. I can picture them wondering in their various sections of the store, sealing their purchases with an ice cream cone. Thanks so much.
Posted 03/05/2016 10:53 AM
Jancan:
Ah, those were the days--when we could buy more than a small pack of gum with a dollar. I love your poem. Lava lamps are back! Janice
Posted 03/05/2016 10:40 AM
paradea:
"All happy families are alike; each unhappy family is unhappy in its own way."- Leo Tolstoy. This poem goes down easy!!
Posted 03/05/2016 08:15 AM
Newf:
Wonderful family, I can just picture them.
Posted 03/05/2016 06:53 AM
JanetruthMartin:
Heartwarming imagery! thank-you!
Posted 03/05/2016 06:41 AM