Boots and parka are still standard
gear, but the breeze is warm
this afternoon, the sky is trying on
a new blue dress, and icicles sweat,
nervous in the sunshine.
A new season's soundtrack has begun —
cardinals play penny whistles,
songbirds flirt with feathery mates
and mourning doves sing wistful songs.

At the corner, starlings make a bathhouse
in a puddle, gossip, splash under wings,
dunk heads, then shimmy off the droplets —
shameless joy in their ablutions.

I know there'll be more cold. Puddles
will freeze again, and robins wisely stay away
'til crocuses appear, but today the birds announced
that there will be another spring.

This poem first appeared in Loyalhanna Review.
Used here with the author's permission.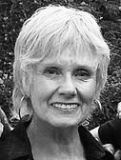 Sarah Russell lives in State College, Pennsylvania with a patient husband and a curly dog named Smudge. She co-edits Pastiche, a local literary journal, and her poetry has appeared in Red River Review, Misfit Magazine, Shot Glass Journal, and The Houseboat, among others. Learn more about her at www.SarahRussellPoetry.com.
Sarah Russell:
Thanks so much for all your good comments. I have been away, and got my own poem today as a surprise when I looked at email I missed. Thanks for publishing it, Jayne!
Posted 03/19/2016 04:49 PM
jtmilford:
Beautiful images! The sky is trying on a new dress-sweating icicles. Thanks
Posted 03/06/2016 07:26 PM
transitions:
Really enjoyed it...no robins in WI yet but "there will be another spring" :)
Posted 03/06/2016 06:08 PM
erinsnana:
love the imagery! the sky is trying on a new blue dress!
Posted 03/06/2016 11:59 AM
Glen Sorestad:
Some beautiful images here, Sarah. Well done.
Posted 03/06/2016 08:36 AM
jeeger:
I like hearing what other people have to say about what robins have to say about when spring comes. My grandfather always said it would snow on the robin three times and then spring would finally arrive.
Posted 03/06/2016 07:45 AM
Janet Leahy:
I love the announcement "that there will be another spring." Thanks Sarah for a splendid poem.
Posted 03/06/2016 07:31 AM
Larry Schug:
I tapped maple trees in Minnesota yesterday and the sap began running immediately. There are even reports of the first wood tick! I really like the description of the sky in this poem. Very nice work.
Posted 03/06/2016 07:29 AM
Jean :D:
This poem is so visual & descriptive. It is right on for WI, but optimistic that Spring is near. I too love the icicles, I'll never look at them the same again.
Posted 03/06/2016 06:40 AM
Newf:
I'll have to wait for April before I see anything in bloom, but spring is coming. That most beautiful of seasons. Full of promise, like your poem.
Posted 03/06/2016 04:11 AM
Ross Kightly:
And I love those nervously sweating icicles! There are a few flakes of snow drifting now past my window here in Halifax, in the West Riding of Yorkshire, but the council crocuses are braving it still over by Manor Heath Park, I'm sure! Lovely poem, thanks to all.
Posted 03/06/2016 02:29 AM
rhonasheridan:
I love that bath-house! In Devon the poor birds don't know what season it is. They are making their nests - in the snow!! Today is brilliant sun. Your poem puts it beautifully.
Posted 03/06/2016 02:20 AM