The summer sun is sinking low;
Only the tree-tops redden and glow:
Only the weathercock on the spire
Of the neighboring church is a flame of fire;
All is in shadow below.

O beautiful, awful summer day,
What hast thou given, what taken away?
Life and death, and love and hate,
Homes made happy or desolate,
Hearts made sad or gay!

On the road of life one mile-stone more!
In the book of life one leaf turned o'er!
Like a red seal is the setting sun
On the good and the evil men have done,--
Naught can to-day restore!

This poem is in the public domain.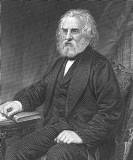 Most experts would agree that Henry Wadsworth Longfellow was the most popular American poet of the nineteenth century. A family man who suffered much tragedy in his personal life,  Longfellow was the first of a group of writers known as the "Fireside Poets," called such for their popularity with families all over the country who gathered by the fire in the evenings to read the work of these poets aloud. Longfellow published poetry over a forty year period, and enjoyed public adulation in line with that of rock stars and celebrities today.
Wilda Morris:
I was not familiar with this poem by Longfellow. It has beautiful images - and so much truth!
Posted 07/13/2016 08:43 AM
rhonasheridan:
Makes you think
Posted 07/04/2016 10:50 AM
jtmilford:
A beautiful reflection on summer life and death. He said it all perfectly in a few words.
Posted 07/03/2016 07:42 PM
Dorcas:
How beautiful and reflective. Words that I have in my mind and heart but, they do not quite come out on a page.
Posted 07/03/2016 01:12 PM
blueskies:
Always a gift. Within his poems. Thanks,Jayne.
Posted 07/03/2016 10:36 AM
paradea:
I like Longfellow's poetry. Good one!!
Posted 07/03/2016 09:18 AM
cork:
He gives significant meaning to the day's end.
Posted 07/03/2016 08:34 AM
Newf:
Love Longfellow, love this poem. I'll have to read it again at sundown.
Posted 07/03/2016 04:25 AM