(Citrullus lanatus)
Loyal patriots
Indulge Independence tradition
Colored red, white
& green.

Melon mandatory:

Juice drips
Down an entire family
Of sweaty
Chins.

Cool crimson & luscious
Plump with wet black seeds
Made slick, just right
For spitting.

Outside barbeques
End with pink streaked children,
Tired, sticky & quite
Content.

Oblong, round &
Icy cold enough to match
A Georgia hot July
Afternoon,

Vital holiday rations,
Sacred, sweet
& sliced
Big.
© by Elizabeth Perdomo.
Used here with the author's permission.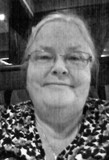 Elizabeth Perdomo has lived and written in the Rio Grande Valley of South Texas for the past fourteen years, moving to the region from the Rio Grande Valley of New Mexico. Born in Kansas and raised both there and in Colorado, Elizabeth also lived in the southeastern U.S. for a number of years, where her three daughters were born and homeschooled. The author of One Turn of Seasons, featuring poetry about people and places in East Tennessee, Elizabeth has been writing poetry since her teen years, on topics that include local place and culture, cooking, gardening, ecology and nature, traditions, spirituality, and more.
Jancan:
Great description of a sticky, tasty treat! Janice
Posted 07/05/2016 11:38 AM
Lori Levy:
Perfect picture of watermelon.
Posted 07/04/2016 07:43 PM
AllegraSilberstein:
A poem to make your mouth water!
Posted 07/04/2016 04:27 PM
KevinArnold:
And ending on the short line "Big."
Posted 07/04/2016 12:12 PM
rhonasheridan:
Been there - done that! Wonderful sticky memories
Posted 07/04/2016 10:54 AM
Caro70:
"Melon mandatory"! Wonderful!
Posted 07/04/2016 09:23 AM
blueskies:
Best way to begin the FOURTH! Watermelon rules...Fun poem Thanks, Elizabeth.
Posted 07/04/2016 08:58 AM