Warm summer sun,
Shine kindly here,
Warm southern wind,
Blow softly here.
Green sod above,
Lie light, lie light.
Good night, dear heart,
Good night, good night.
This poem is in the public domain.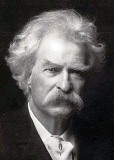 Samuel Langhorne Clemens, better known as Mark Twain (1835 – 1910), was an American novelist and humorist. Born in Missouri, he suffered ill health as a child and lost his father at the age of 12. A year later, to help keep his family fed, Samuel left school to become a printer's apprentice. He eventually went to work at his brother's newspaper and discovered that he enjoyed, and had a gift for, writing. At 21, Samuel embarked on a career as a steamboat pilot, but the Civil War forced him to head west and, after an unsuccessful attempt as a prospecting career, he went to work as a newspaper reporter and soon carved out a reputation as one of the most entertaining storytellers—in print and in person--around. In the course of his life, Samuel wrote 28 books and innumerable letters, essays, and short stories and is today considered one of America's greatest literary icons.
ghctenmile@earthlink.net:
This one breaks your heart. Thanks for posting it, Jayne.
Posted 07/21/2016 04:26 PM
barbsteff:
Didn't know Twain wrote poetry. Green sod above/lie light, lie light. Is that a wish for post-death comfort?
Posted 07/21/2016 04:15 PM
transitions:
he said it so well, ...dear heart....
Posted 07/21/2016 02:41 PM
KevinArnold:
Twain was so pithy. We were all laughing yesterday of his adage "A clear conscience is the sure sign of a bad memory." Thanks for including him.
Posted 07/21/2016 10:19 AM
blueskies:
What a gift. From a father to his daughter. Words truly from his heart!
Posted 07/21/2016 07:11 AM
Jean :D:
He must have really missed his daughter, this is so touching. Never knew this side of him.
Posted 07/21/2016 06:43 AM
Ross Kightly:
Is there anything Sam Clemens couldn't do better than even Annie Oakley? This is such a lovely verse and like so much of Twain's work, straight from one of the biggest of all hearts.
Posted 07/21/2016 05:28 AM
Newf:
Sweet!
Posted 07/21/2016 02:30 AM