Summer sings its long song, and all the notes are green.
But there's a click, somewhere in the middle
of the month, as we reach the turning point, the apex,
a Ferris wheel, cars tipping and tilting over the top,
and we see September up ahead, school and schedules
returning. And there's the first night you step outside
and hear the katydids arguing, six more weeks
to frost, and you know you can make it through to fall.
Dark now at eight, nights finally cooling off for sleep,
no more twisting in damp sheets, hearing mosquitoes'
thirsty whines. Lakes of chicory and Queen Anne's lace
mirror the sky's high cirrus. Evenings grow chilly,
time for old sweaters and sweatpants, lying in the hammock
squinting to read in the quick-coming dusk.
A few fireflies punctuate the night's black text,
and the moonlight is so thick, you could swim in it
until you reach the other side.

From Selected Poems (FutureCycle Press, 2015).
Used here with the author's permission.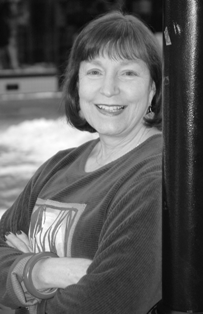 Barbara Crooker's poems have appeared in numerous magazines, journals, and anthologies and have been featured on the BBC, the ABC (Australian Broadcasting Company), The Writer's Almanac, and in the Poetry at Noon series at the Library of Congress. Her awards include the Thomas Merton Poetry of the Sacred Award, three Pennsylvania Council on the Arts Creative Writing Fellowships, fifteen residencies at the Virginia Center for the Creative Arts, a residency at the Moulin à Nef in Auvillar, France, and a residency at The Tyrone Guthrie Centre in Annaghmakerrig, Ireland. Barbara lives in Fogelsville, Pennsylvania; read more about her at www.barbaracrooker.com.
jtmilford:
Beautiful images. I can feel the anticipation of fall in your words. Thanks
Posted 08/16/2016 08:19 PM
Lori Levy:
Paints a beautiful picture!
Posted 08/16/2016 01:18 PM
Sara L Russell:
For me in the UK, this is a beautiful window on your late summer days in Fogelsville. That's how a poem should be; bringing you to experience a new vision through the senses of the poet. Thanks for sharing :) all the best, Sara Russell
Posted 08/16/2016 01:16 PM
ghctenmile@earthlink.net:
Thank you for this beautiful poem.
Posted 08/16/2016 11:23 AM
wendy morton:
I swim in the moonlight of this poem.
Posted 08/16/2016 10:44 AM
Jo:
So descriptive. Beautiful images.
Posted 08/16/2016 10:37 AM
rhonasheridan:
You can almost smell it!
Posted 08/16/2016 07:37 AM
blueskies:
A real treasure...moonlight is so thick you could swim in it! Thanks,Barbara.
Posted 08/16/2016 07:32 AM
plgoodman:
Wow, Barbara, so many beautiful images. This one's a keeper! Thanks.
Posted 08/16/2016 07:19 AM
Newf:
Wonderfully descriptive. Just love it.
Posted 08/16/2016 04:33 AM