I reach past family vacation cups
from Disneyworld and San Diego,
guitar covered mugs from Memphis,
and St. Louis juice glasses
with the Gateway Arch. But
this morning I need my coffee
from the Yankee mug my son
bought me for a long ago
Father's Day before he grew
taller than I, before his voice                
turned deeper than mine,
before "Daddy" shortened
to "Dad." I want to sip my coffee                                  
with my hands around
this gift my son gave me,
feel its warmth across
my palms, and drink the hot
comfort of Maxwell House.
I hold his Yankee blue mug,
its "NY" white as cream,
and think of Liam today
on his first morning away
at college, eating breakfast
with new friends as I stare
into my coffee and wish
two sugars could sweeten
the grief I feel sitting
across from his empty chair
holding with both hands
what my son has left behind.

This poem first appeared in LIPS.
Used here with the author's permission.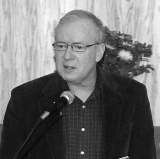 Edwin Romond is a poet, playwright, composer, and educator. Now retired, he taught English for more than 30 years in Wisconsin and New Jersey. Edwin's award-winning work has appeared in numerous literary journals, college text books and anthologies, and has been featured on National Public Radio. He maintains an active schedule of readings and presentations; check www.edwinromond.com to see if he's appearing anywhere in your area. A native of Woodbridge, New Jersey, Edwin now lives in Wind Gap, Pennsylvania, with his wife and son.
rhonasheridan:
I've been reading this all month so far - I like it better every time . My favourite has a little green hen! Alongside big roses, and a wee Wren. Even though I'm far from 'home'. I still have them - used in rotation.
Posted 09/07/2016 11:02 AM
Mary Lou Taylor:
Truly a poet's poet.
Posted 09/03/2016 03:53 PM
barbsteff:
Poignant.
Posted 09/03/2016 12:09 PM
jtmilford:
A feeling many of us have experienced. Your poem says it so well. Thanks
Posted 09/01/2016 08:48 PM
blueskies:
And just where is the *!! box of Puffs when you need one??!! Heartstrings#101 fully engaged. Thanks, Edwin.
Posted 09/01/2016 04:53 PM
ghctenmile@earthlink.net:
Thanks for this.
Posted 09/01/2016 01:52 PM
Lori Levy:
Simple, but powerful language.
Posted 09/01/2016 12:34 PM
Michael:
So nicely done, Edwin. So true to the heart of life.
Posted 09/01/2016 11:30 AM
hannegault@gmail.com:
made me cry
Posted 09/01/2016 11:11 AM
KevinArnold:
Note to vsholtz: If you ever write a novel, consider calling it "Homesick in My Own Home." or a poem or SS or FF . . .
Posted 09/01/2016 10:31 AM
loisflmom:
Liam may well be holding a Disney mug with two hands on his first day at college!
Posted 09/01/2016 10:09 AM
Sherry:
Oh yes! Being the parent of an adult child is heartbreaking and wonderful at the same time. I miss my children's youth.
Posted 09/01/2016 09:41 AM
KevinArnold:
Yes, it's what we fathers think when sons and daughters leave the nest.
Posted 09/01/2016 09:18 AM
ElizabethP:
Oh yes. I am so with this poem. Our youngest daughter just left for college. Way too many empty seats... This piece shares it all perfectly.
Posted 09/01/2016 09:13 AM
cscoville:
This one strikes painfully close to home as my wife and wrestle with the emotions of our only son's first week of college. My thanks to Mr. Romond for so beautifully capturing our feelings.
Posted 09/01/2016 08:50 AM
JanetruthMartin:
vscholtz, your comment is right on! a small poem, in a sense!
Posted 09/01/2016 07:52 AM
JanetruthMartin:
Agree with previous comment. I've read it over and over, linked to it from my blog so many more may find it. Simply superb!
Posted 09/01/2016 07:51 AM
njc:
A pleasure to read slowly, over and over.
Posted 09/01/2016 07:47 AM
vscholtz:
Loving, sweet, but not cloying. I can feel this poem in the pit of my stomach. Sometimes I am homesick in my own home.
Posted 09/01/2016 07:11 AM