A slash of Blue --
A sweep of Gray --
Some scarlet patches on the way,
Compose an Evening Sky --
A little purple -- slipped between --
Some Ruby Trousers hurried on --
A Wave of Gold --
A Bank of Day --
This just makes out the Morning Sky.


This poem is in the public domain.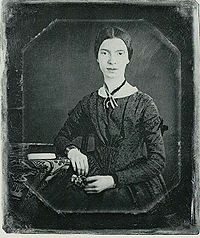 Emily Dickinson (1830 – 1886) is considered a major American poet, though she was not accorded this honor until well after her death, when her younger sister discovered and began to share the enormous body of work that Emily left behind. A recluse who almost always wore white, Emily was born to a prominent Massachusetts family and spent the bulk of her life inside her home in Amherst. Only seven of her poems were published during her lifetime, and virtually none were published as originally written until the mid 1950s. (Emily's odd punctuation, capitalization, and formatting did not meet with standard publishing  "approval" for earlier editions.)  There is a whimsical nature to many of her poems, although the subject of death was the most frequent recurring theme.
paradea:
Beautiful!
Posted 09/03/2016 12:45 PM
Lori Levy:
Love the simple beauty of this poem.
Posted 09/02/2016 11:43 AM
Newf:
Sweet simplicity!
Posted 09/02/2016 05:23 AM
rhonasheridan:
Delightful
Posted 09/02/2016 03:35 AM