Some days, I need my toast fully loaded:
peanut butter, honey, maybe a thick
slice of banana splayed across seductively.
Perhaps you know those mornings,
when you require some sweet thickness
to fill up an emptiness in your bones
or to round off the sharp corners of a
blustery, steel-grey sky. Perhaps yours
is a full-fat latte or a bacon sandwich.
Perhaps yours is the K-Rock Morning Zoo.

But today, when the sun shines
with such blue ferocity
that even clouds dare not intrude,
when the song of every bird seems
sharper, ringing with purpose, and
every leaf vibrates with intensity,
when you find that you have awoken
to a world that is fully, burstingly alive,
then only a thin scrape of butter, the birdsong,
and a cup of bitter, jasmine tea.
†
© by Ryan Warren.
Used with the authorís permission.
†
†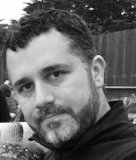 Ryan Warren lives with his family by the sea in Northern California, where they spend their time playing with the dog, taking naps, and looking under rocks. His poetry has appeared or is forthcoming in a number of journals.†Learn more about Ryan at†www.facebook.com/RyanWarrenPoetry.
†
†
peninsulapoet:
Lovely poem to begin the day
Posted 09/09/2016 10:00 AM
erinsnana:
I loved this!
Posted 09/09/2016 09:57 AM
wendy morton:
Eat this poem.
Posted 09/09/2016 09:15 AM
Lori Levy:
I'll think of this when I'm eating my toast. Beautiful.
Posted 09/09/2016 09:13 AM
michaelanderson:
Well done, Ryan. Strikes me this would work well in a collection on disordered eating. I need reminders to live fully and eat well. Why not in good, lively verse?
Posted 09/09/2016 08:52 AM
Walcottjm:
Oh, yes!
Posted 09/09/2016 08:44 AM
KevinArnold:
Wonderful poem. Bravo.
Posted 09/09/2016 08:23 AM
plgoodman:
Very well done. I love the contrasts and your delicate images. Thanks.
Posted 09/09/2016 07:41 AM
Larry Schug:
As a profound appreciator of toast, I dig this poem. I often wake with toast on my mind. To paraphrase William Carlos Williams, so much depends on a slice of toasted bread.
Posted 09/09/2016 07:41 AM
Newf:
What a wonderful poem with an early morning coffee. Still dark but I'm o Hoping for a sunshiny day. Both stanzas are so descriptive and full of feeling, I read them again immediately and will read again
Posted 09/09/2016 04:55 AM