Three long blocks down the town's Peach Road,
Past Pelham Circle and Pearl--how the names come back!
It was out of a six-year-old's neighborhood,
Three times as far as I'd ever wandered.†
It was ragweed and goldenrod hot and sweet
And twice the height of the dog and me,
Exploring late summer territory--a maze
Of hollows and tracks, bindweed and morning glory.† † † † † ††
I followed Pete, the dog, perhaps, and he his nose
Tracing the passage of possums and mice.
The day comes back in dreams or waking forty years later --††
Nothing of my father's shouts or mother's tears
That must have sent me out of the house, or the knocking
On doors too early for Ria or Ann to be up,
But the smell of ragweed, wet in the morning,
The shine of spider webs, funneled and spoked,
The grasshopper big as my hand that spit brown juice,
The marbles, lost and nicked, I dug up and pocketed,
The pink in the throat of the blue morning glory,
The feel of the sun as the dog and I curled up
Easy in our weedy kingdom, dozing in the lap of the world.


This poem first appeared in†The Christian Science Monitor.
Used here with the authorís permission.
†
†
†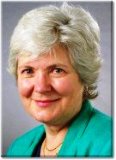 Robin Chapman is a poet, painter, and student of language in Madison, Wisconsin. An organic gardener and early morning exerciser, she is retired from teaching courses in child language development and disorders at the University of Wisconsin-Madison. Widely published in a variety of venues, Robin's tenth collection of poems, Panic Season, was published last summer, and she co-edited two poetry anthologies Learn more about her here and here.

TheSilverOne:
I lived this poem as I read it. Beautiful, Robin. ~~Doris Bezio
Posted 09/16/2016 10:30 AM
jtmilford:
You have captured that forty year ago time beautifully. Thanks
Posted 09/12/2016 07:46 PM
rhonasheridan:
This is so much more than ragweed and goldenrod. Such a good poem.
Posted 09/12/2016 08:51 AM
twinkscat:
A well executed poem from an executive poet who is also a teacher!
Posted 09/10/2016 11:27 PM
Jo:
beautiful poem and evocative like your paintings. I've entered it and see all that you've described --what a visual treat, Robin. Thank you.
Posted 09/10/2016 08:25 PM
barbsteff:
Perfectly evocative!
Posted 09/10/2016 03:00 PM
Marilyn L Taylor:
Beautiful. Makes me want to run away from home.
Posted 09/10/2016 12:02 PM
Lori Levy:
Enjoyed this poem. Very evocative.
Posted 09/10/2016 10:12 AM
becky evans:
Beautiful, evocative images! Love the welcoming of the "weedy kingdom" at the end, "dozing in the lap of the world," when the narrator has been sent out possibly due to "father's shouts or mother's tears." Wonderful poem every reader can relate to, recalling vacant lot explorations of their own childhood.
Posted 09/10/2016 10:03 AM
Kenneth Rosen:
Ragweed and goldenrod hot and sweet. Can't beat it with a stick! Well, pink throats of blue morning glories come close.
Posted 09/10/2016 10:01 AM
Janet Leahy:
Love the "pink in the throat of a blue morning glory," my favorite flower! Thanks Robin for a lovely walk through a vacant lot.
Posted 09/10/2016 09:48 AM
blueskies:
...dozing in the lap of the world What stunning visuals! Thanks,Robin.
Posted 09/10/2016 09:28 AM
Newf:
For some reason I was visualizing a small boy. Delightful to know it's a girl. Enjoying bugs, spiderwebs etc. Love the whole picture.
Posted 09/10/2016 08:16 AM
KevinArnold:
Great fun with the contrast of family woes and the knocking on doors too early.
Posted 09/10/2016 08:12 AM
Larry Schug:
Idyllic, yet says so much more in the post Jacob Wetterling world.
Posted 09/10/2016 07:36 AM
Jean :D:
Loved Robin's line, ... the dog following his nose. When I take my son's Lab outside that is exactly what I like to watch as her nose twitches like crazy. She traces the wild turkeys & other dogs who have walked past the house.
Posted 09/10/2016 06:43 AM
mimi:
You've captured those magic days perfectly, Robin...thank you for the memories!
Posted 09/10/2016 06:33 AM