Surely the flowers of a hundred springs
Are simply the souls of beautiful things!

The poppies aflame with gold and red
Were the kisses of lovers in days that are fled.

The purple pansies with dew-drops pearled
Were the rainbow dreams of a youngling world.

The lily, white as a star apart,
Was the first pure prayer of a virgin heart.

The daisies that dance and twinkle so
Were the laughter of children in long ago.

The sweetness of all true friendship yet
Lives in the breath of the mignonette.

To the white narcissus there must belong
The very delight of a maiden's song.

And the rose, all flowers of the earth above,
Was a perfect, rapturous thought of love.

Oh! surely the blossoms of all the springs
Must be the souls of beautiful things.
This poem is in the public domain.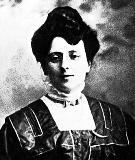 Lucy Maud Montgomery (1874 – 1942) was a Canadian author best known for her novel series, Anne of Green Gables, although she wrote hundreds of poems and short stories, as well. Raised by her grandparents, Maud published her first poem at the age of 16. She earned a teaching certificate and taught school for several years but eventually turned to writing full time while caring, first, for her grandmother and, later, her husband and three sons.
TheSilverOne:
Beautiful words from this multi-talented woman.
Posted 03/27/2017 11:10 AM
rhonasheridan:
What a delightful list of lovely thoughts
Posted 03/27/2017 07:39 AM