In a bright corner by the bone china, Marilyn
lives on the easel. A summer sheen on her face,
those lips and hips lured both lion and weasel.
Marilyn, stroked against a canvas sea roiling
in emerald and midnight blue conspiracy. 
Eyelids half closed, keening
making you look as she leans, breathless,
flecked with innocence, as close
to immortality as a pinup saint can get.
© by Kay Day.
Used with the author's permission.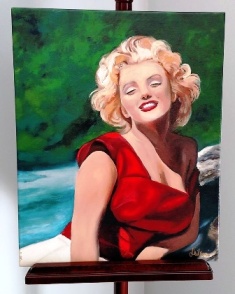 Painting by Leilani Leo, Jacksonville, Florida artist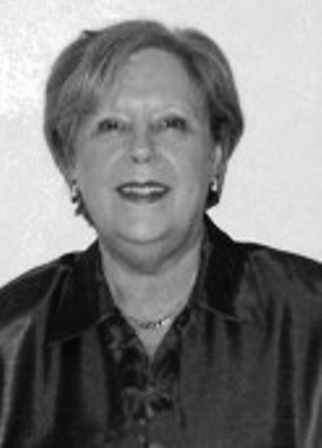 Kay Day is one of those writers who does it all--poetry, memoir, nonfiction, journalism, technical . . . you name it, she writes it--and does it well. Host of a current events blog called Day on the Day and an arts blog called Indie Art South, Kay is a former columnist for the The Writer Magazine and author of an award-winning poetry collection and a memoir. A former South Carolinian now living in Jacksonville, Florida, her work has appeared in numerous magazines and anthologies and she is a frequent guest lecturer at schools and political and book events.
barbsteff:
"by the bone china/summer sheen/stroked against a canvas sea/she leans, breathless/flecked with innocence" What wonderful word choices, evocative of Marilyn's sensuality.
Posted 05/31/2017 01:20 PM
pwax:
Well crafted poem. Nice internal rhyme. You captured her.
Posted 05/31/2017 11:16 AM
Michael:
Dear Kay, This was a life which ended far too soon. Thank you for reminding us of one who had so much to offer but who lives on through the brush and pen.--Michael
Posted 05/31/2017 10:54 AM
Lori Levy:
Great last line--"as close/to immortality as a pinup saint can get."
Posted 05/31/2017 10:48 AM
Jancan:
Good choice for the day, Jayne! Kay's concise poem says so much and implies so much more--"midnight blue conspiracy"! Enjoy your well-deserved interlude and thanks for your dedication! Janice
Posted 05/31/2017 10:04 AM