My skies have not seen kites since ones
we flew at ten, at twelve.
We climbed the hill above the creek — snow
might still be on the north sides of boulders — climbed
beyond the boggy cow pasture.
Holsteins looked on with mild
interest.

We lay on our backs —
after the first run into wind,
playing out cheap cotton string,
not too fast, waiting for
the first tug, would it hold?
It held, always held, that string.
Holding the balsa tip, awaiting the grab
of wind, the thin paper bellying,
our shouts pushing it up —
we lay on our backs in the tall grass.

Rolling hills—today's, mine—ocean hills:
so very green in winter, so ochre in summer,
so nearly bare — a copse or two, a cow
or two — hills empty and round and crying
for kites but bare of kites.
Quite bare of kites, children in my world
do not kite.

Then,
mine was blue, my brother's yellow
with tails long and majestically multi-patterned:
strips from dishtowels worn through.
String all the way out, surely
above the stratosphere by now.

We lay upon our backs, thrilled
to thoughts of sudden lightning, talked
about whether clouds could see us.


© by Diane Lee Moomey. 
Used here with the author's permission.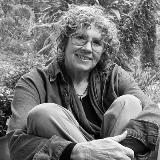 Diane Lee Moomey grew up near the Great Lakes and, since then, has lived and wandered around the U.S. and Canada. These days, she dips her gardener's hands in California dirt, and reads and listens regularly at poetry venues in the San Francisco Bay Area. Diane has published three books of poetry and prose and won a prize or two along the way. Currently, she is co-curating a monthly poetry series in the Bay area. Besides poetry, Diane enjoys long walks beside the ocean, reading mysteries, and painting in watercolors. Learn more about her at https://www.pw.org/content/diane_moomey and www.dianeleemoomeyart.com.
DavidTookey:
I can feel the warm breeze and, I love cows! Great poem!
Posted 04/20/2018 10:15 AM
Puppet Lady:
Thank you for reminding me of the joy kites! May there always be children young and old who delight in them.
Posted 04/20/2018 09:23 AM
becky evans:
A beautiful poem! Reminds me of Truman Capote's beautiful memoir of his childhood when he flew kites with his cousin, Miss Sook, and they made their own. I love "the thin paper bellying,/ our shouts pushing it up --
Posted 04/20/2018 09:11 AM
laurenepersons:
Beautifully written. As a teacher, I worry that my children want to grow up too quickly. My wish for them is that they take time to let the wind tug at the hearts and kite strings.
Posted 04/20/2018 08:52 AM
mjorlock:
What a wonderful memory-poem. It builds to a truly poignant observation.
Posted 04/20/2018 08:34 AM
michael escoubas:
Enjoyed this so much Diane. Returns me to my youth. Marvelous use of detail. TU!!
Posted 04/20/2018 08:30 AM