in the Nature Area

They didn't come prepared – bare shins, sneakers.
The man's got a puppy, a young son in tow.
It's spring, morning's a wind full of questions.

Past the ball-field, green narrows then forks
into overgrown trails. Which to take,
when one ventures in shorts and sneakers?

The pup leads a way, sniffing pine duff,
brambles, a feather. Where are we going?
the boy asks. Morning's a wind full of questions.

What can a father say? He's only just heard
of a hidden pond, blackberries ripening –
and they've come here bare-shinned, in sneakers.

Brambles scratch. The boy finds cedar tepees.
Who made them, how long ago?The pup's off
testing a morning-wind full of questions.

Indians summered here, but now they're gone.
Where does anyone go? A father knows –
venturing with boy and dog, with bare sneakers
on this morning's wind, full of questions.


© by Taylor Graham.
Used with the author's permission.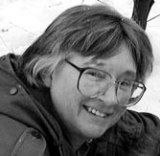 Taylor Graham lives in the Sierra Nevada foothills, where she is a volunteer search-and-rescue dog handler. Her award-winning poems have appeared in hundreds of newspapers, journals, and anthologies. Appointed as El Dorado County's first poet laureate, Taylor is enjoying learning more about the history—both human and natural—of that area. She's also conducting monthly readings and read-arounds, as well as a weekly poetry workshop. Learn more about her at www.somersetsunset.net.
Antoinette:
Lovely.
Posted 07/04/2018 07:52 AM
Dorothy WildhagenD:
Lovely. I was a little girl and I had different conversations with my father.
Posted 06/15/2018 07:05 PM
Jo:
a morning is a wind full of questions. Great line.
Posted 06/15/2018 04:51 PM
Lori Levy:
Love the feeling of this poem and the language.
Posted 06/15/2018 01:35 PM
Glen Sorestad:
Just a superb poem to start my morning. I, too, love that repetition "hook". The poem makes my day. Thank you, Taylor.
Posted 06/15/2018 11:18 AM
Janet Leahy:
Love the line repetition in this piece, and such interesting lines: "a wind full of questions." Thanks Taylor.
Posted 06/15/2018 10:19 AM