When I remember with what buoyant heart,
Midst war's alarms and woes of civil strife,
In youthful eagerness thou didst depart,
At peril of thy safety, peace, and life,
To nurse the wounded soldier, swathe the dead,–
How piercèd soon by fever's poisoned dart,
And brought unconscious home, with wildered head,
Thou ever since 'mid langour and dull pain,
To conquer fortune, cherish kindred dear,
Hast with grave studies vexed a sprightly brain,
In myriad households kindled love and cheer,
Ne'er from thyself by Fame's loud trump beguiled,
Sounding in this and the farther hemisphere,–
I press thee to my heart as Duty's faithful child.

This poem is in the public domain.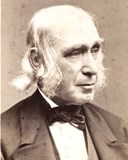 Amos Bronson Alcott (1799 - 1888) was an American philosopher, teacher, and writer. Father of Louisa May Alcott, he spent his life attempting to share his heartfelt, if unconventional, ideas about education. A leading disciple of the trandscendentalist movement, Bronson taught in numerous schools in the course of his career, and even established one of his own which, ultimately, failed. His progressive ideas inspired educational reformers in later generations, however, and many of his principles and practices are used in schools today.

There are no comments for this poem yet.