We're driving fast through farmland
when a roadside man waves his arms:
Slow down! Slow down! A dog, mid-highway.
I stop, blocking the road, turn on flashers.
Rose leaps out. I join her. We're dog people.

Rose can't catch the dog.
The man is shouting "Grab her! Grab her!"
By size and shape the dog is a shepherd,
colored like a beagle, looking friendly as heck
but confused and frantic.

I suspect this shep-beagle just wants
somebody to tell her what to do,
so I crouch and call "Come!"
From the center of the highway she runs
straight to my outstretched hands.
I seize the collar and command "Sit!"
She sits.

The man waddles over and takes her by the collar.
He's overweight, bald with a white beard, bad hips.
He says, "I know where she belongs."

Now I check on the cars behind my flashers,
engines idling. Drivers waiting.
Are they annoyed?
Nope. Big smiles.
Dog people.


© by Joe Cottonwood.
Used here with the author's permission.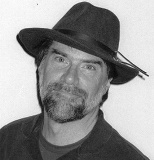 Joe Cottonwood has built or repaired hundred of houses in his day job as carpenter/contractor. Nights, he writes. Originally from Maryland, with a definite bias toward things Appalachian, Joe eventually moved west to La Honda, California, where he built a house under redwoods on a mountainside, raised a family, and remains there today, still living with the same woman for half a century and now playing with the grandkids. His newest book of poetry is Foggy Dog: Poems of the Pacific Coast. Learn more about him at www.joecottonwood.com.
anne.lehman2929@att.net:
Great sentiment and simple solution--genius!
Posted 09/06/2018 09:19 PM
Dorothy WildhagenD:
I wouldn't beckon to a dog. Nice poem.
Posted 08/27/2018 11:23 PM
Lori Levy:
Enjoyed the poem even though I'm not a dog person!
Posted 08/27/2018 10:39 PM
DavidTookey:
Nice! We need all the happy endings we can get.
Posted 08/27/2018 08:57 PM
Robert Walton:
You've captured an essential truth: dogs recognize and accept help because generosity is built into them. A good dog will put you first when the chips are down.
Posted 08/27/2018 07:07 PM
Mary Lou Taylor:
How I miss Moxie. And no one to walk a new one.
Posted 08/27/2018 04:31 PM
antoinette:
Me too, me to. I am a dog person!
Posted 08/27/2018 02:54 PM
barbsteff:
Wonderful insight on dogs and their people!
Posted 08/27/2018 01:11 PM
wordartdjc:
Sweet story poem. I liked it. I am not a dog person, none here, but so enjoy seeing well trained and beautiful animals. I especially admire the Scottish Terrier.
Posted 08/27/2018 01:04 PM
michael escoubas:
You're barking up the right tree here in YDP country, Joe. Nicely done.
Posted 08/27/2018 11:26 AM
Jean Colonomos-1:
ARF, ARF!
Posted 08/27/2018 10:45 AM
plgoodman:
Heartwarming, Joe. The human heart is big enough for every creature if we let it be free. Thanks for this human story.
Posted 08/27/2018 08:52 AM
Larry Schug:
I like the stories in which everyone wins, especially, the dog.
Posted 08/27/2018 08:13 AM