The sign said, the fun is over
and everything is now worth
half of what it was at the beginning.
†
Sandals, towels, unguents
become meaningless in the face
of the coming north wind
†
that will soon deaden
all the thrills of summer:
warm nights by the fire pit
†
sunny mornings sleeping late.
There are beans to be picked
and pestos to be made.
†
There are more tomatoes
than you can shake a stick at,
and peaches, ah, peaches.
†
Itís coming to an end here,
all the ripe possibilities of summer.
Despite all the warnings,
†
and even when nothing
particular happened,
summerís value still holds.


© by Lisa Vihos.
Used with the authorís permission.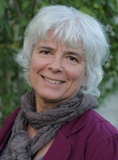 Lisa Vihos began writing poetry in college, then changed direction and became an art museum educator for twenty years. In 2007, she returned to poetry, her first love. Now the author of four chapbooks, most recently, Fan Mail from Some Flounder (Main Street Rag Publishing, 2018), Lisa works as a grant writer at the John Michael Kohler Arts Center in Sheboygan, Wisconsin, and is the poetry and arts editor of Stoneboat Literary Journal. She is also an organizer for 100 Thousand Poets for Change.


tiddles:
Eating peaches while putting up tomatoes. The gifts of summer! Enjoyed your poem, Lisa. MZW
Posted 08/29/2018 03:44 PM
TheSilverOne:
Ah, the ending of summer. Loved this poem.
Posted 08/29/2018 09:35 AM
Lori Levy:
Love the images of all the "ripe possibilities of summer."
Posted 08/28/2018 07:33 PM
Michael:
Love your title, Lisa, as well as the winsome spirit of this poem. Well done!
Posted 08/28/2018 06:41 PM
Jo:
" Summer's value still holds." You, bet, Lisa. Reflective poem. Thank you.
Posted 08/28/2018 04:55 PM
cork:
Snow fell in Wyoming yesterday--more flakes than you could shake a stick at.
Posted 08/28/2018 09:14 AM
Kay Sanders:
Yes, Lisa, "summer's value still holds!"
Posted 08/28/2018 08:57 AM
Larry Schug:
"Peaches, ah, peaches" What a line of poetry! A poem in itself.
Posted 08/28/2018 08:53 AM
mjorlock:
If only we could buy back summer at half price...especially when Wisconsin slips back into the deep freeze. Nice poem, sweet and reflective.
Posted 08/28/2018 08:12 AM
wordartdjc:
Yes, this brings us up short. Despite all the heat etc. we will ask for our summer to return when the cold winds blow.
Posted 08/28/2018 07:55 AM
paula:
Guilty! Canning tomatoes, making salsa. Watching the days slip into autumn. Great poem, Lisa.
Posted 08/28/2018 05:52 AM