I dream a Norman Rockwell world
where all is well and rock solid.
Let me slip into a canvas
where colors always please the eye
and the story is true and sweet.

I'm the man standing to speak
at town meeting, and the runaway
boy on a stool beside the cop at a lunch
counter.  I watched a ballgame
through a fence knothole.  I'm the doctor
with my stethoscope on the girl's doll,
and one of the kids shooting marbles.

We've all been there in a jumbled
déjà vu of discovery and escape,
a place where the heart paints
a little Rockwell into a reality
far beyond time and space.

On Stockbridge's storybook
Main Street, the mountains Rockwell
painted behind the Red Lion's rambling
grandeur have eroded away.  The line

between hopes and dreams is thin
when we crave a postcard world
we cannot put a foot through.


© by David K. Leff.
Used with the author's permission.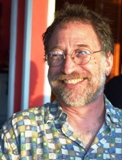 David K. Leff (1955 - 2022) was an author, poet, and playwright, the author of six nonfiction books, three volumes of poetry, and a novel in verse. His journals, correspondence, and other papers are archived at the University of Massachusetts Libraries in Amherst. David's 2016 book, Canoeing Maine's Legendary Allagash: Thoreau, Romance and Survival of the Wild, won a silver medal in the Nautilus Book Awards for memoir and a silver medal in the Independent Publisher Book Awards for regional nonfiction. In 2016-2017, the National Park Service appointed him as poet-in-residence for the New England National Scenic Trail (NET). David served in a multitude of civic roles, including Deputy Commissioner of the Connecticut Department of Environmental Protection and town meeting moderator, historian, and volunteer firefighter--for 26 years--in his hometown of Canton, Connecticut. Learn more about David at www.davidkleff.com.
Dorothy WildhagenD:
Yes, Rockwell was a marvelous illustrator as he is sometimes classified. Very detailed and nuanced in his works. Thank you for the tribute.
Posted 09/08/2018 07:10 PM
Michael:
Thank you David, for your poignant reminders of all those Rockwell covers on the Saturday Evening Post. There were and remain American treasures.
Posted 09/08/2018 12:23 PM
wendy morton:
Oh, for a Rockwell world, the rock solid one. Gone forever, I think.
Posted 09/08/2018 12:01 PM
Jancan:
This well-written poem movingly conveys a theme that should resonate with all. Janice
Posted 09/08/2018 09:10 AM
wordartdjc:
If all the world were a Rockwell place then surely it would be ideal, however, our dream of this in our stark reality of today is just a far-off ' pipe dream'.
Posted 09/08/2018 07:58 AM