You could count on them. They were the ones with
sucking candy in their handbags. Butterscotch or peppermint.

In two or three weeks my son will be a father
and I, a grandma again. He laughs at meó
at how, for as long as he can remember,
Iíve had a tissue in my pocket.
True, I think. Tissues, not candyóbecause thereís always, always
a nose that needs wiping, a scrape to blot dry,
a face smeared with chocolate, begging to be cleaned.
Tissues are so useful, so necessary.
But I do have Pepperidge Farm cookies in my kitchen
cabinet and Dr. Seuss books on my bookshelves.
You might find a stray Lego piece
under my couch or a teddy bear abandoned
in the corner of the toy room. Puzzles, cars,
dolls, Lincoln logs stuffed into baskets,
waiting to be played with.

No candy in my bag, but my arms are delirious,
as if already holding our soft, sweet girl
whose name I donít know yet.
I am waiting for the call,
tissues in every pocket.


© by Lori Levy.
Used with the authorís permission.
†
†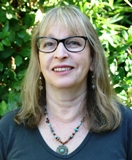 Lori Levyís poems have appeared in numerous literary journals, anthologies, and medical humanities journals in the U.S., England, and Israel. Having grown up in Vermont and raised three children in Israel, she now lives with her family in a multi-generational home in Los Angeles. Loriís four grandchildren keep her entertained, on her toes and, occasionally, inspire poems.
†
†
ghctenmile@earthlink.net:
Thanks for this poem, Lori. And congratulations to you, Jayne, on your new grandchild-to-be. I know how happy you must be. Grace
Posted 09/09/2018 10:15 PM
Jo:
My gramma carried tissues in her sleeve. She also carried butterscotch in her purse. I sure miss her.
Posted 09/09/2018 08:03 PM
Dorothy WildhagenD:
Like gran'ma, like child. My mom used to have tissues in her pocket, too. I think we all do that.
Posted 09/09/2018 04:41 PM
barbsteff:
Perfect! I'm with the poet - no cady in pockets, but tissues and other essential supplies (toys) at the read.
Posted 09/09/2018 03:06 PM
wordartdjc:
As a great-grandmother, I have had the joy of watching my children interact with their great joys of now being grandparents. This is an added blessing for me and one I am grateful for. Lovely Poem
Posted 09/09/2018 12:49 PM
Michael:
You've described my house for sure, Lori! Wonderful poem.
Posted 09/09/2018 08:17 AM