This is the tomboy month of all the year,
    March, who comes shouting o'er the winter hills,
    Waking the world with laughter, as she wills,
    Or wild halloos, a windflower in her ear.
    She stops a moment by the half-thawed mere
    And whistles to the wind, and straightway shrills
    The hyla's song, and hoods of daffodils
    Crowd golden round her, leaning their heads to hear.
    Then through the woods, that drip with all their eaves,
    Her mad hair blown about her, loud she goes
    Singing and calling to the naked trees;
    And straight the oilets of the little leaves
    Open their eyes in wonder, rows on rows,
    And the first bluebird bugles to the breeze.
This poem is in the public domain.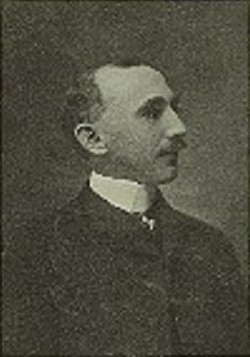 Madison Julius Cawein (1865 - 1914) was a poet from Louisville, Kentucky, who loved to write about nature. Sometimes referred to as "the Keats of Kentucky," Madison published more than thirty books of his own work and translated numerous others written by German poets. While nature was his favorite theme--his wonderfully detailed poems about his native state's flora and fauna have been called a "veritable nature guide to the Kentucky woodlands"--Madison also wrote about a broad range of other subjects, ranging from vampires to fairies. Critically popular, internationally acclaimed, and frequently published in contemporary magazines of his day, Madison was rendered almost destitute by the stock market crash in 1912 and was forced to sell his home and much of his library collection to survive.
Dorcas:
Such a happy recycling of the months, rotating from the very harsh winter that NYC has had. A pleasure to help inspire into the month of March.
Posted 03/08/2015 08:50 PM
paradea:
I love this poem. Thank you for a glorious description of the heartening month of March.
Posted 03/08/2015 07:56 AM
barbsteff:
Oilet definitions: From thefreedictionary.com: A small opening or loophole, sometimes cicular, used in medieval fortifications. From wordnik: n. same as eyelet n. An eye, bud, or shoot of a plant.
Posted 03/07/2015 11:20 PM