Mostly when I'm vacuuming the carpet
in Mr. Besdine's office
I don't worry, just do the work
and know I'll be sleeping in my own bed
when all the desks in all them offices
will have people sitting around them.
Sometimes I don't hear the vacuum cleaner
and I'm quiet like when I play
Praise God From Whom All Blessings Flow
in the Mission Baptist Church.
There are other times I imagine fixing biscuits
unrolling my cloth from the coffee can,
flour still on it from the last time,
smoothing it out on the counter,
cloth white, flour white.
My mother's biscuit cutter
made from an old Pet Milk can,
not a tack of rust on it,
presses in easy as a body to a hammock.
Some like biscuits and gravy,
I myself fancy biscuits with my homemade
muscadine jelly that comes from the
muscadine grape that grows wild.
First published in Z Miscellaneous. Republished in In The Margins of The World (Plain View Press, 2001).
Read by Garrison Keillor on the Writers Almanac on Nov. 20, 2002 and Nov. 20, 2003.
Used here with the author's permission.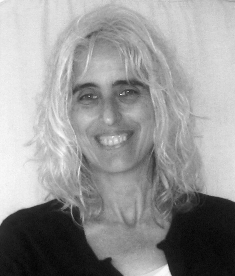 Willa Schneberg is the author of four published poetry collections--one of which, In the Margins of the World, received the Oregon Book Award in Poetry--and a letterpress chapbook, The Books of Esther. A transplant from the east coast, Willa lived for a few years in the early '80s in Knoxville, Tennessee, and became mesmerized by the preparation of biscuits, which she didn't have the pleasure of eating until moving to Appalachia. Now a resident of Portland, Oregon, she has, for the last 15 years, curated an annual program of Oregon Jewish writers at the Oregon Jewish Museum and Center for Holocaust Education. In addition to being a poet, Willa is a visual artist and social worker in private practice. Learn more about her at https://willaschneberg.org/.
Dorcas:
A traveling reflection.
Posted 03/07/2015 04:04 PM
transitions:
Great flow made this easy and fun to read while sharing the deeper message within. Really, really liked it.
Posted 03/07/2015 11:33 AM
Cindy:
Beautiful and wonderful and so comfortable. Thank you!
Posted 03/07/2015 08:37 AM
tannerlynne:
this is Inez making biscuits in my grandmother's kitchen ca. 1940...!
Posted 03/07/2015 07:56 AM
rksanders@charter.net:
So much in this poem resonates with me. Fixing (not making) biscuits. The biscuit cutter made from an old Pet Milk can. The muscadine jelly. And that wonderful line, "presses in easy as a body to a hammock," describes not only the biscuit cutting but this poem. Thank you, Willa.
Posted 03/07/2015 06:49 AM