The taste of a raspberry
takes me back,
every time.
I am a child, walking
through my grandfatherís woods
towards the lake.
†
Tiny ruby gems
much smaller than
the store-bought ones
I savor now
pinky-nail size, but oh
so lovely a treasure.
†
For just one more day
to be that small girl again
waking up in my slanted ceiling
bedroom, with a view to the barn
no cares, excited about
what the day would bring.


© by Carolyn Casas.
Used with the authorís permission.
†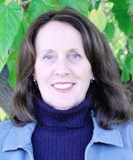 Carolyn Chilton Casas lives on the central coast of California and is a practicing Reiki Master/Teacher. A writer, poet, and student of metaphysics and healing, she co-founded a women's circle in her area to raise money for Guatemalan women to start businesses to support their families.

barbsteff:
Lovely memory poem with a nice extension into the grownup life. My memories are of strawberries, coupled, alas, with ungracious memories of having to pick them in my mother's vast garden. I buy them picked now.
Posted 06/10/2019 05:24 PM
Jancan:
This lovely poem takes me back!
Posted 06/10/2019 12:15 PM
Jo:
Thank you for this lovely poem. It is rhubarb for me. We had to get it covertly from Grandpa's garden. Not quite the same as your poem, but still a memory path back to childhood.
Posted 06/09/2019 04:52 PM
Lori Levy:
Beautiful memory.
Posted 06/09/2019 03:30 PM
KevinArnold:
For just one more day . . . great line.
Posted 06/09/2019 12:33 PM
Michael:
Exquisite, well-crafter poem. Congratulations Carolyn--I have awakened many a morning with the same childhood memories.
Posted 06/09/2019 09:15 AM
paradea:
Beautiful!!
Posted 06/09/2019 09:03 AM
Larry Schug:
What this poem tells me is that we can't return to youth physically, but youth lives within us and will emerge if we just allow it.
Posted 06/09/2019 07:36 AM