Whenever my father spotted a nail, bent or twisted
by errant hammer, discarded as useless because it was
no longer true, he always picked up the reject to carry
†
along with him to where he kept an old tobacco can,
where the off-kilter joined the collection of cripples
needing his attention. It was a task for another day.
†
I was too young to understand his reason for doing this,
nor to fathom what satisfaction he received for his
slow and deliberate care, returning each nail to true.
†
This was when my fatherís livelihood was driving
his car down gravel or dirt roads selling Fuller brushes,
then Electrolux vacuums, Nutty Club confectioneries.
†
He eked a meager wage, but his heart was never in it.
His honesty and regard for others road-blocked sales
targets and he could never pressure anyone to buy.

Rainy weekends, I would find him in the workshop,
happy with his hammer and his tobacco can, working
against time to set things right, the only way left to him.


This poem appeared previously in The Duke City Fix,
an online newspaper in Albuquerque, New Mexico.
Used here with permission.
†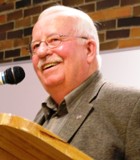 Glen Sorestad has been writing poems for fifty years and claims he still enjoys doing so. His wife Sonia is his first and most enthusiastic reader and editor. They live in Saskatoon, "the Paris of the prairies." Learn more about Glen here.

Carolyn C:
I love the picture this poem paints. Thank you.
Posted 06/15/2019 04:57 PM
Lori Levy:
Great poem! I agree with all the other comments.
Posted 06/10/2019 05:47 PM
joecot:
Some metaphors miss their mark. This one nails it.
Posted 06/10/2019 11:05 AM
Michael:
Glen has gifted us, his lucky readers, with many underlying life-lessons. They're not hard to find, not the list of which resonates with me, "he always picked up the reject to carry/with him . . ."
Posted 06/10/2019 10:48 AM
cscoville:
I love the poem and its character study of a good, common man, but I also love the comments from others who celebrate quiet decency in a world that often overlooks it.
Posted 06/10/2019 10:11 AM
Jean Colonomos-1:
Such a warm, well written poem to start off the week.
Posted 06/10/2019 09:48 AM
Larry Schug:
You know of my fondness for nails, real and metaphorical, Glen so you know I was immediately attracted to these words. I still have cans of bent nails my father left behind. I am, indeed, my father's son. The metaphor for imperfection, the idea of making things right and that love does not die with death truly speaks to me this morning. Thank you so much, Glen.
Posted 06/10/2019 07:37 AM
vscholtz:
Thanks for this true portrait of an honest, thoughtful man. My dad also straightened nails and sold things for a living. His product was life insurance. He often said, the only thing we can't get more of is time.
Posted 06/10/2019 07:26 AM
Randy Cadenhead:
Glen has captured so beautifully the quiet suffering of so many good men, and all too many women as well.
Posted 06/10/2019 06:55 AM
Alarie Tennille:
I love the slice of life and quick character sketch of Sorestad's father (if the poet is the speaker). While my father didn't do this, it reminded me of him, an honest salesman who sold central air conditioning, but would tell a client. "For the size of your house, you can put in a window unit and leave the bedroom door open and it will cool your whole house."
Posted 06/10/2019 05:17 AM