In the fitful dark, the storm clouds departed
along with rain that changed the course of rivers;
leaving hostages behind, unthreatened now,
by drying winds that sent their nemesis flying.
 
The morning sky breathes a clear blue sigh
for those who lift their faces to see
everything washed clean--everything,
even debris, washed clean.


© by Patricia Killian Deaton.
Used with the author's permission.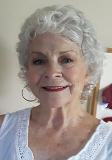 Patricia Killian Deaton lives in the historic foothills town of Valdese, North Carolina. She writes poetry, short stories and some non-fiction, and has published in various journals. Active in a bi-monthly writers' group, she participates in the Catawba Valley's quarterly ekphrastic event, the Art of Poetry. Patricia says walking is her favorite past-time, especially with her great-grandchildren—Maria, 6, and Elias, 3.
Jean Colonomos-1:
Such a refreshing description of a storm.
Posted 06/30/2019 10:29 AM
KevinArnold:
Patricia Killian Deaton?s timing is brilliant, describing the storm?s raging terror safely in the past.
Posted 06/30/2019 10:08 AM
finney@charter.net:
Lovely, Pat, the description after three pouring days dumping inches of rain...and after life dumps its darkness upon us, then offers us a ?clear blue sigh? to get up, move on, take our new place in the order of things.
Posted 06/30/2019 08:38 AM
Charly:
This poem is a perfect picture of storm and resolution, esp line....morning sky breathes a clear blue sky. Such should be our lives. Thank your!
Posted 06/30/2019 07:31 AM
r1manchester:
"clear blue sigh"...clever line, quite spiritual poem
Posted 06/30/2019 05:23 AM