The crunch of Pringles in my earó
no, itís celeryópardon me, but your munch
breaks my concentration.
†
Canít you see Iím trying
to stay in this plank for two minutes
and still breathe?
†
Iíd much rather gulp from the gulf
than have this sweat drip on my lipsó
how long has it been?
†
The dog licks my chin and buries
beneath my torso, rolls onto his back
paws up as if this is a fun game.
†
Your laughter doesnít help at all
even though I make it without dying,
although I feel like playing dead.


© by Laurie Kolp.
Used with the authorís permission.
†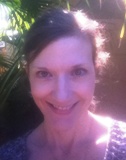 Laurie Kolp is an avid runner and lover of nature who lives in Texas with her husband, three children, and two dogs. Her poems have appeared in multiple journals and she is the author of two poetry collections. Learn more about Laurie at www.lauriekolp.com, @KolpLaurie on Twitter, and https://www.facebook.com/KolpLaurie.
paradea:
Love this poem!!! Hahahahaha!!
Posted 08/29/2022 09:35 AM
Lori Levy:
Funny. Great ending!
Posted 07/01/2019 07:32 PM
lkkolp:
Thank you all so much!
Posted 07/01/2019 12:09 PM
Sharon Waller Knutson:
Loved your poem, Laurie. It was funny, clever, well written and the story of my life being a Yoga junkie. Laughed out loud because my cat did exactly what your dog did when I did plank.
Posted 07/01/2019 10:07 AM
michael escoubas:
Like your internal rhymes Laurie and the everydayness of the winsome poem. Thank you.
Posted 07/01/2019 08:12 AM
Larry Schug:
Ah, yoga with a dog(and cats)! this poem's full of little hints of so much more, leaving plenty of room for the reader's imagination to engage. Just a cool little poem.
Posted 07/01/2019 08:02 AM