He wanted a Monopoly on everything--
real estate, utilities, railroads, free parking,
my friends, my time, my check book, my energy.
How he Marvined up all my gardens while he
Balticked over every kind of my Mediterranean.
Of course, I could not pass Go,
and if I ever collected two hundred dollars
he whisked it off to his side of the board.
He didn't just want to win,
he wanted me bankrupt.
How I prayed the dice would imprison him!
How I yearned for Chance
to expose a bank error
not at all in his Boardwalk favor!
He was the iron. I was the little dog
falling into--always in--danger,
soft animal, furry, vulnerable,
at large near cold steel railroad tracks,
Reading bad news. I wanted to win,
I engaged all my Utilities,
but he was ruthless.
Iím not a spoiled sport but
when he started building hotels
I found my Community Chest,
shook the spell, got out of jail.
He was the banker, but
I had my own resources.
Paper money streaming behind me
I left as he made his last move. He was
leaned back, laughing like a melodramaís villain,
shaking the dice toward a Park Place victory,
so sure of himself that he didn't see me leave.


© by Sharon E. Svendsen.
Used with the authorís permission.
†
†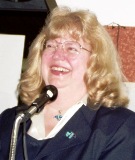 Sharon E. Svendsen wrote her first poem, for Motherís Day, in the sixth grade. Since then, sheís written many more, including two collections: Write What You Know, and Out of My Cookie (poems based on fortune cookie predictions).Sharon lives in western Washington State with her husband, Gary, and their border collie, Goldie.
milesss:
truly captures that the only true way to win at capitalism is to leave... lovely and fun!
Posted 11/19/2019 07:09 PM
Jancan:
I REALLY love this poem. While skillfully and creatively including an impressive number of Monopoly terms, you maintained a tone of mock seriousness!
Posted 11/17/2019 08:37 AM
Jo:
Your poem is delightful. Makes me think we should get the old board out and shake the dice. Thanks so much.
Posted 11/16/2019 10:43 PM
Iampoetjane:
I love Monopoly and this poem. Sharon takes us around that Monopoly board with her wit and attention to the details of the game and relationships.
Posted 11/16/2019 08:41 PM
barbsteff:
You go, Poet!
Posted 11/16/2019 04:16 PM
peggy.turnbull:
Good one. Reminds me of playing with my brother--a player as ruthless as this!
Posted 11/16/2019 12:53 PM
paradea:
I love this!!! Very clever!! Last line is priceless!!
Posted 11/16/2019 12:01 PM