When your bucket of blunders burdens you,
bury it in the garbage bin,
tie it with a tight bow and let it go.

If your mantel of mistakes manages to outmaneuver you,
clear it off, box the contents
and send if off to Salvation Army.

So your snarling sack of snafus starts to undo you?
Un-snake and unravel each strand.
Then shred them all for good.

Dare the darlings of delusion dwell too long,
deliver them from their disappointment.
Close the lid and dump them.

Should certain cares come to crush you,
crash them like a tsunami
or simply create compost of them.

Whenever worms of worry wiggle into your
peace of mind, wind a hook through them
and feed them to the walleyes.

When on occasion the black obelisk of obstacles
hangs over your head like a piñata,
punch it with a pole until it spills its gifts.

The pendulum of problems probes too close?
Prime yourself in the knowledge
that it will surely swing back.

Know that even a random universe
has checks and balances, its cosmic dialectic.
Know: Chaos doesn't last forever.


From The Alleluia Tree (Puddin'head Press, 2012).
This poem first appeared in Red Silk.
Used here with permission.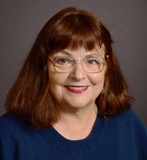 Christine Swanberg is the author of ten books and has published more than 500 award-winning poems in various journals and anthologies. Retired after 35 years of teaching high school, college, and graduate school, she is the recipient of a Mayor's Award for Community Impact, a YWCA Award for the Arts, and a Womanspirit Award. Christine lives in Rockford, Illinois, where she enjoys gardening, singing, swimming, and traveling.
milesss:
love how the second and third lines abruptly halt the movement of the first, as if to say "no, none of that, now let's stop and clean up this mess"
Posted 11/19/2019 07:13 PM
cork:
Well written with willfulness!
Posted 11/17/2019 09:48 AM
Jancan:
FANTASTIC! This enthusiastic, imaginative piece is much more than just alliterative--great job there. It gives wonderful advice.
Posted 11/17/2019 08:35 AM
SaraS:
Oh, well done Christine! A good reminder and a smile to start off my day.
Posted 11/17/2019 08:14 AM
plgoodman:
Very clever and skillful but the message is potent as well.
Posted 11/17/2019 08:04 AM