†
28 December 1997 ~ Morning
Rockdale County, Georgia


Winter
glistening new blue
day
†
With
spangled silver ice
tinsel
†
Grass
sparkles under crunching
boots
†
Creates
sundry crackling cold
snow songs.


© by Elizabeth Perdomo.
Used here with the authorís permission.
†
†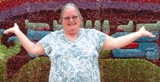 Elizabeth Perdomo has lived and written in the Rio Grande Valley of South Texas for the past 18 years, moving to the region from the Rio Grande Valley of New Mexico. Born in Kansas and raised both there and in Colorado, she also lived in the southeastern U.S. for a number of years. Elizabeth has been writing poetry since her teen years, on topics that include local place and culture, cooking, gardening, ecology and nature, traditions, spirituality, and more. The author of One Turn of Seasons, featuring poetry about people and places in East Tennessee, her work is also featured in the anthology, Kansas Time + Place and in various publications, including Heartland, Writers of the Rio Grande, Chachalaca Review, and Interstice.
Anastasia:
So pretty! And best observed from a cosy chair inside the house!
Posted 12/30/2020 01:05 PM
Wilda Morris:
I feel the crisp air! Well-done.
Posted 12/29/2020 10:57 AM
Lori Levy:
Paints a beautiful winter scene.
Posted 12/28/2020 05:53 PM
michael escoubas:
Wonderful, economical poem. Elizabeth makes every word count; puts the reader in the action. Nicely done!
Posted 12/28/2020 12:14 PM
cork:
I love the format.
Posted 12/28/2020 09:03 AM
mail@schoolbusmart.com:
Nice tight tercets, sparse and sparkly, with sight and sound. Well done. Randy
Posted 12/28/2020 08:51 AM