Overnight
snow tumbled
down and down
in big flakes
like my Grandma's
intricate doilies
decorating her sofa—
in silence
they cling like sugar
to naked fingers
emanating
their own strength
their own peace
their own determination
to prove
beauty is everywhere
in every living thing
in every season
if one looks
at the world
through eyes of love.


© by Michael Escoubas.
Used with the author's permission.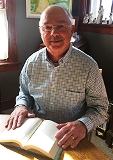 Michael began writing poetry for publication in August of 2013, after retiring from a 48-year-career in the printing industry. He writes poetry because, early in life, his mother encouraged him. Michael also writes poetry because he believes poetry brings people together and that poets are menders of broken things. Michael is the author of three collections--Light Comes Softly, Monet in Poetry and Paint. Steve Henderson in Poetry and Paint, and his most recent, Little Book of Devotions: Poems that Connect Nature, God, and Man.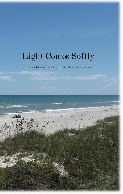 TheSilverOne:
How Beautiful!
Posted 02/16/2021 04:54 PM
Jancan:
This is a masterpiece--so descriptive and inspirational. Great use of similes, metaphors, and personification
Posted 02/16/2021 12:23 PM
Anastasia:
Such wonderful images, and a warm and lovely poem!
Posted 02/15/2021 05:56 PM
Wilda Morris:
Lovely! Your reference to the doilies brought back great memories! And a wonderful message, well expressed.
Posted 02/15/2021 01:12 PM
Corgicottage:
What a meaningful poem. The descriptions are warm and inviting and feel happy. The line about beauty everywhere describes my feelings about winter....I live in Connecticut and find beauty in the snow-covered trees, the flakes falling from the sky, my corgi eating the snow....Michael, we are kindred spirits.
Posted 02/15/2021 09:40 AM
Jo:
Beautiful images and the comparison of snow to your Grandma's doilies is lovely. Happy Valentine's Day, Michael.
Posted 02/14/2021 09:09 PM
ladybug:
Susan T. Moss A nice poem weaving nature, imagery and a powerful message.
Posted 02/14/2021 04:39 PM
Lori Levy:
Beautiful images, beautiful poem, and I love the title.
Posted 02/14/2021 03:06 PM
William Marr:
Yes! Beauty is everywhere, as long as we keep our eyes of love open! Wishing you a happy Valentines Day!
Posted 02/14/2021 12:23 PM
CamilleBalla:
Grandma's intricate doiliess and Valentines' Day and snowflakes and beauty everywhere through eyes of love in every season, love,y thoughts. I'm going to bring out the doilies today. Thanks, Michael.
Posted 02/14/2021 09:55 AM
Jean Colonomos-1:
Dear Michael, your snowflakes fell as tears in my eyes.
Posted 02/14/2021 09:54 AM
cork:
I will focus on "eyes of love."
Posted 02/14/2021 09:21 AM
DELINDMAN:
And beauty is in your words. Thank you.
Posted 02/14/2021 08:38 AM
KevinArnold:
Oh,yes. On Valentines Day.
Posted 02/14/2021 08:37 AM
mjorlock:
Quite a lovely image--snow as big as doilies tumbling down. Quite a lovely sentiment, too.
Posted 02/14/2021 08:23 AM
A Jenkin:
Your words, sentiment used and spirit lift me up. You never fail to surprise. Thank you for sharing this poem with us. Annie
Posted 02/14/2021 06:18 AM