The sky is overcast,
ready to spread another layer
of white on cold earth.
Already the groundhog
has seen his shadow.
Records for cold and snow
have been set. I feel drear,
dead as the landscape
till I see three fox squirrels
scramble through barren branches
of the backyard maple.
They hang upside down
on thin twigs, chase each other,
jump, wrestle, separate
and reunite. So alive.

 
This poem first appeared in WestWard Quarterly (Winter 2015).
Used here with permission.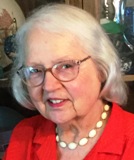 Wilda Morris is the author of two poetry collections and two nonfiction books. Fond of walks in the woods, along shorelines or riverbanks, or through towns and cities, she especially enjoys walking with a grandchild or great-grandchild, seeing things through their eyes. Wilda, who lives in the Chicago suburbs, also loves to travel—whether to places she has never been or to those that have become almost like home due to repeated visits. Learn more about her at http://wildamorris.blogspot.com/.
anothercrazypoet:
I love the simplicity of this poem and its upbeat ending. I've seen squirrels on the maple tree in my own back yard in winter doing the same thing.
Posted 02/27/2021 12:43 AM
TheSilverOne:
This is wonderful, Wilda... Reminds me of the Robert Frost poem, "Dust of Snow"...Nature heals. ~~ Doris Bezio
Posted 02/16/2021 04:25 PM
Wilda Morris:
Thank you all!
Posted 02/16/2021 02:33 PM
red thread:
Nice poem! I love the combination of drear and dead. Perfect for today here in snowy Chicago...
Posted 02/16/2021 01:56 PM
Jancan:
Very descriptive and appealing--timely too!
Posted 02/16/2021 12:20 PM
Jo:
I sure enjoyed your poem Wilda and am with you—the squirrels do put on quite a show. They are full of life and fun to watch. Thank you for sharing the energy.
Posted 02/15/2021 10:40 PM
jamvan:
lovely poem. We occasionally get snow here in the Blue Mountains west of Sydney Australia - but never the kind of winter you guys get. I love snow and wish it came every year - sadly not. Thankyou for giving me a little of your snow
Posted 02/15/2021 07:36 PM
Anastasia:
Squirrels don't let a little thing like weather get in the way of having fun!
Posted 02/15/2021 05:50 PM
ladybug:
Susan Moss: Fun and energizing poem, Wilda!
Posted 02/15/2021 03:40 PM
Lori Levy:
I like the contrast between the lively squirrels and the dreary landscape.
Posted 02/15/2021 02:14 PM
CamilleBalla:
I'll have to pay closer attention. I might have these fox squirrels in my yard, but today not even a footprint in the snow-laden yard. Good poem. I'll watch for these guys.
Posted 02/15/2021 01:48 PM
Janet Leahy:
The scramble of squirrels brings great action to this poem. Reading your bio and your interest in walking may I recommend a book I'm reading "Walking, One Step at a Time" by Erling Kagge Oslo philosopher, writer. Thanks for your poem.
Posted 02/15/2021 12:27 PM
peninsulapoet:
I love the ending--a good reminder to us all.
Posted 02/15/2021 11:51 AM
michael escoubas:
I feel like I'm standing beneath the tree where the squirrels are frolicking! Thank you Wilda.
Posted 02/15/2021 10:49 AM
peggy.turnbull:
A spirit-lifting poem! Thank you, Wilda.
Posted 02/15/2021 09:56 AM