Tangled in this junk drawer
like a mass of mating snakes,
remember that you are versatile.

You seal bags of goldfish at county fairs,
prevent candles from wobbling,
clasp newspapers so they'll hit the porch,
hold asparagus in orderly bundles.

You are flexible enough to
power wind-up toys,
twist into kitschy bracelets,
tolerate the stretch and snap of fidgeters,
torment teachers' pets.

You are strong enough to
stabilize needles in tattoo guns,
snap the wrists of habitual nail biters,
secure masks on people's faces,
stop toddlers from opening cabinet doors.

Take heart — you have potential;
you are the connective force giving braces
the power to straighten human teeth.


This poem first appeared in Moss Piglet (2020).
Used here with permission.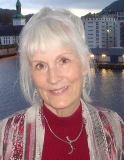 Joan Wiese Johannes is retired from a rewarding and challenging career as an English teacher. The author of several poetry collections, she also composes music for Native American-style flute and includes it with her poetry readings. Joan believes that Thornton Wilder was right when he wrote that "only poets and saints truly appreciate life while they are living it." Hardly a saint, Joan appreciates the life she shares with her poet/artist husband, Jeffrey, in Port Edwards, Wisconsin. Learn more about her at http://bookthatpoet.com/poets/johannes.html.
Lori Levy:
A rubber band will always seem special to me after reading this poem!
Posted 03/17/2021 06:20 PM
paradea:
Love this!!!
Posted 03/17/2021 11:06 AM
Stephen Anderson:
Your compilation of images is positively wonderful.
Posted 03/17/2021 10:01 AM
mjorlock:
Very clever! Well done!
Posted 03/17/2021 09:36 AM
cork:
They got me into serious trouble in 6th grade.
Posted 03/17/2021 09:25 AM
Nicholas:
A panoply of images to savour and enjoy. One to read over and over. Thank you!
Posted 03/17/2021 09:18 AM
KevinArnold:
Marvelously composed. Promoting the easily-overlooked. Great fun.
Posted 03/17/2021 09:17 AM
Larry Schug:
Who'd have thought! Poems are lurking everywhere.
Posted 03/17/2021 08:24 AM