Our need is surely now for gentle news.
Lives, stilled by necessity, call out for calm,
a kind of deep attention monks have known.
My kneeling stool has become a friend.

The garden and my small abode are alight
with both loss and pleasure. Old songs spring
easily to an open heart. The call, to replenish
gratitude, knocks each day on my door.

Odd that I have perfected now, the recipe
for scones. Buttermilk with ginger, apricots,
free range eggs that turn them golden.
Tops brushed with milk, a dust of sugar.

Old friend, it is you I wish I could
bring them to – in a basket covered
with a cotton cloth – and walk again,
arm in arm, round that mountain lake.


© by Judith Heron.
Used with the author's permission.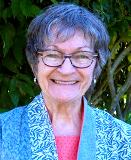 Photo Credit: Mandy Greyling Holmwood
Judith Heron lives in Victoria on Vancouver Island. She has been published in a number of chapbooks edited by Patrick Lane, and in three anthologies: A Murder of Crones (Ptarmigan Press 2007), The Wild Weathers: a gathering of love poems (Leaf Press 2012), and Poems from Planet Earth (Leaf Press 2013). Though she has always lived on the west coast of Canada, Judith cherishes the homestead traditions of her prairie heritage. She relishes the rituals of becoming an elder, which include permission to visit and work in variuos gardens and to spend more time "with the birds."

KateTompkins:
Sad but beautiful.
Posted 03/19/2021 08:54 AM
jamvan:
lovely. Thankyou.
Posted 03/18/2021 11:51 PM
Lori Levy:
Beautiful poem. Love the verse about the scones.
Posted 03/18/2021 07:35 PM
Arlene Gay Levine:
Shirley has taken the words right out of my mouth -- this poem is delicious in all ways, Judith!
Posted 03/18/2021 11:56 AM
shirley.bruton@gmail.com:
Love your poem! I would also love your scone recipe!! Thanks so much for sharing your kindness.
Posted 03/18/2021 10:47 AM
Janet Leahy:
The call to replenish gratitude is a beautiful line. Thank you Judith.
Posted 03/18/2021 09:22 AM
michael escoubas:
You have captured our times with gentle wisdom, Judith . . . congratulations on a fine piece.
Posted 03/18/2021 09:04 AM
Larry Schug:
Just right! You capture these times perfectly, beautifully and poetically.
Posted 03/18/2021 07:07 AM