Sunlight
          has just begun
                        to sift itself
                                through the branches,
when a sudden breath
                    of summer wind
                              sends dozens
                                        of maple trees' whirligig seeds
                                                                into a microburst shower
                                   of flickering shadows
                                                       and glittering chartreuse twirls.
Compelled,
        I reach
               for a single spinning seed,
                 catch it
                           by one of its dragonfly wings,
                                           peel open its small sticky pod,
                                                   and smiling
                                                                press it
                                                                      to the tip of my nose.
        
                                 Never too old!

© by Joan Kantor.
Used here with the author's permission.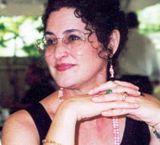 Joan Kantor lives with her husband in Collinsville, Connecticut. A college counselor and learning disabilities specialist for many years, Joan also has training in education and marriage and family therapy. Active in a number of poetry outreach efforts, she is a member of the International Academy for Poetry Therapy and collaborates with both visual artists and musicians in Stringing Words Together, an interactive program of poetry and violin music. Her most recent chapbook is Too Close For Comfort (Aldrich Press).
Anastasia:
As kids, we called them "helicopter trees", and would chase the seed pods around as they flew. But never catch themyou lost a point if you touched it! You just chased it until it landed, then went off to chase another one. Thank you for this fun memory!
Posted 08/14/2021 04:27 PM
jamvan:
Big smile :)
Posted 04/09/2021 04:07 AM
Wilda Morris:
Wonderful! As poets we need to be child-like. Joan Kantor has expressed it well.
Posted 04/07/2021 09:45 AM
Lori Levy:
This poem paints a beautiful picture.
Posted 04/06/2021 07:07 PM
shirley.bruton@gmail.com:
I like the sun sifting, the summer wind breathing, flickering shadows and pressing it all to the tip of your nose. Lovely.
Posted 04/06/2021 02:09 PM
Sharon Waller Knutson:
I love Joan Kantor poems. In this poem, I especially enjoyed the scintillating S words. Sunlight sift sudden summer sends seeds shower shadows single speeding see small sticky smiling
Posted 04/06/2021 11:37 AM
Corgicottage:
I adore the theme....one is never too old! As I age, I think it more and more.
Posted 04/06/2021 09:36 AM
cork:
I used to call the whirligig seeds helicopters. Whirligig has a beautiful sound.
Posted 04/06/2021 09:25 AM
KevinArnold:
That last line reminds us so much of aging is learned behavior. That can be unlearned. Skipping. Even, under safe conditions, modified cartwheels. Leapfrog.
Posted 04/06/2021 09:18 AM
Larry Schug:
"Never" is such a fine poem, from its description of the maple seeds, the dance they do as they fall through the air, to their texture and shape and color is very tactile. The reaction of the human narrator at the end is priceless. The shape chosen to present this picture is exactly as it should be.
Posted 04/06/2021 08:30 AM