A question to be answered, please:
Why do most men avoid M.D.s?
†
At thoughts of office calls we scoff
unless thereís something falling off.
†
And if our ankleís had a twist
we hop around and then insist
†
that itís improving very well
although, of course, it hurts like hell.
†
Sinus pressures, nasty fevers,
failures of most pain relievers,
†
bellies sad and oozing sores
propel us not through clinic doors.
†
The answer to this riddle, though,
is well concealed--although we know
†
that such recalcitrant displays
are just one part of manly ways.

†
This poem first appeared in Light Poetry Magazine.
Used here with permission.
Phil Huffy had a long career "doing something else," but then he moved on, finding his voice and achieving publication of dozens of poems on many subjects. When not busily writing at his kitchen table in western New York, Phil enjoys hiking, camping, and cycling. His books include three poetry collections; Rhymal Therapy, a collection of limericks; and Magic Words, a poetry collection for children.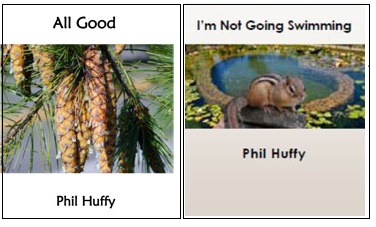 Anastasia:
Too true! Although the most doctor-resistant person in my family was my great-great grandmother. One day, she was sick, and one of her adult kids sent the doctor out to her farm to check on her. She answered the door with a shotgun by her side, and he was willing to accept her statement that she was fine, and no charge for the house call. Poor man!
Posted 08/17/2021 03:10 PM
Wilda Morris:
Love it! This poem reminds me of my grandfather. I think he intentionally picked the lest doctorly doctor in town because he hated to see the doctor (in those days they made house calls).
Posted 04/10/2021 08:52 PM
Lori Levy:
Funny and true. And I like the comment in your bio about having a long career "doing something else."
Posted 04/07/2021 07:02 PM
paradea:
I knew a man once who tried to get fluid off his elbow by sticking a pin in it!!! Go figure!! This is a great poem to hear at a poetry reading!!!
Posted 04/07/2021 10:18 AM
michael escoubas:
Delightful start to my day!! Thank you Phil.
Posted 04/07/2021 09:21 AM
cork:
My ankle is improving!
Posted 04/07/2021 09:01 AM
KateTompkins:
Well, it must be manly ways. Couldn't possibly have to do with fear. Wink.
Posted 04/07/2021 08:57 AM
Darrell Arnold:
It's a guy thing. No question about it. Our own health is the last thing we worry about. I love the title of your book, "Rhmnal Therapy." A cowboy poet friend of mine titled his book "Rhyme Doesn't Pay." He says "This book is a million seller. I've still got a million of them in the cellar." It's darn sure true, but writing rhyming poetry is fun, and doing it well, as you have, is a satisfying reward for the hard work it takes to make it happen.
Posted 04/07/2021 08:52 AM
Larry Schug:
True, sadly, but well put.
Posted 04/07/2021 07:11 AM
Sharon Waller Knutson:
This poem is quite musical with its rhyme and meter. I love the message that it is not manly to have something physically wrong with you.
Posted 04/07/2021 06:07 AM