I come upon it, looped
like an abandoned garden hose
against the stone foundation,

a garter snake, lathered
with morning sunlight,
its bed of decayed leaves

left over from the fall.  
I admire its green stripes,
the dark brown pattern of scales,

how it lifts its head
with a red flick of advice,
then stretches out upon the grass.

With a ripple, a second snake,
thin as a ribbon,
glides upon the back of the first.

I stare in wonder,
want to take off my shoes   
as though on holy ground.

In a flash, they vanish
beneath a bush, and I bow
over my rake,

the vision burning, burning.


© by Kay N. Sanders.
Used with the author's permission.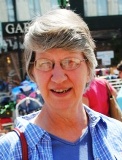 Kay N. Sanders, a native Southerner who now lives in Oshkosh, Wisconsin, has an 11-circuit labyrinth mowed into her backyard, which she shares with deer, rabbits, turkeys, squirrels, chipmunks, possums, birds, a garter snake or two, plus whatever else wanders through. Kay grew up hearing her mother and maternal aunts recite poetry, sing songs, argue, tell stories, quote scripture and even cuss, now and then; how could she not become a poet?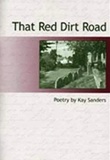 Jancan:
Lovely, flowing poem--about snakes, which I FEAR, regardless . . . !
Posted 04/14/2021 10:54 AM
jamvan:
'with a red flick of advice' how captivating! Lovely observations - thankyou Kay :)
Posted 04/13/2021 11:18 PM
Kay N. Sanders:
Thank you for all your kind comments. I do so appreciate them.
Posted 04/13/2021 08:57 PM
Lori Levy:
I'd be scared, but this is a beautiful picture of the snake.
Posted 04/13/2021 06:12 PM
Nancy R:
I am so glad that when I was about twelve years old a gray-haired man in a county park showed a group of us a snake skin and told us about snake benefits. Thanks, Kay, for this celebration of spring,
Posted 04/13/2021 12:53 PM
paradea:
A snake is a snake is a snake! I raise my hoe to all of them! Nice imagistic poem!!
Posted 04/13/2021 11:44 AM
michael escoubas:
I don't like snakes . . . but garden snakes get a pass . . . not only are they beautiful but beneficial too. Thank you, Kay.
Posted 04/13/2021 10:26 AM
Janet Leahy:
Wonderful word choices in this poem, "lathered with morning sunlight," " a second snake thin as a ribbon" very visual. Thanks Kay.
Posted 04/13/2021 10:26 AM
MatthewMiller:
This is so lovely!
Posted 04/13/2021 10:22 AM
TheSilverOne:
Loved this poem, and the memories of growing up in the country. ~Doris Bezio
Posted 04/13/2021 09:26 AM
Darrell Arnold:
Thanks for writing this poem. I have a special appreciation for garter snakes for some reason. I even considered becoming a herpetologist during my Wildlife biology studies in college. In our elaborately flowered yard, in Colorado, my nephew and I found 12 of them one day, under this bush or that, or under our decorative boardwalk. They were always a pleasure to see. Of course, once in a while one would startle me when I came upon it unexpectedly. But, that's what snakes do.
Posted 04/13/2021 09:19 AM
Gilbert Allen:
Carefully observed and deftly phrased. A fine poem!
Posted 04/13/2021 08:59 AM
Sharon Waller Knutson:
I love this picturesque poem. I can see the garter snake looped like an abandoned garden hose with its green stripes, brown scales, flicking its tongue as the other snake slides along its back, the speaker leaning over the rake as they disappear. A sure sign spring is here.
Posted 04/13/2021 08:50 AM
tiddles:
Love "red flick of advice." Wonderful, Kay. MZWindau
Posted 04/13/2021 08:16 AM
Larry Schug:
Words that capture a moment of poetic Zen.
Posted 04/13/2021 07:47 AM